Bel 990 International Radar/Laser Detector.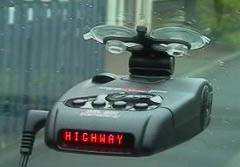 Bel 990 International in Highway mode

This is the "dogs dangly bits", it's performance is quite simply stunning!
When I went to collect this unit from Comtech, I was told about the relationship with Comtech and Beltronics.
The unit started life designed for the American market, but here in the UK Gatso cameras prove a problem for all radar detectors, the radar signal from a Gatso is very weak and gives very little scatter. Comtech and Beltronics researched into what they would need to do to the 990 to make it pickup a Gatso well ahead of the competition. The result is a unit that gives a clear 8.5+ second warning at 60mph of a Gatso in front of you, (Gatso is facing away), this gives more than enough time to slow down, unlike the competition.
Comtech told me to switch off all X and Ka bands leave the K and Ku on. Set the unit for quick start and always keep it in Highway mode, so that's what I did.
In use it is superb, it sits there doing nothing till a Gatso or speedtrap is in range, now with most of the other units I have tried you can usually see a Gatso before the warning goes off, but this unit has told me of a Gatso round a corner when the radar scatter is good. The audio is clear and can be quite loud if you want, the display is easy to read and bright enough to deal with the sun on it. It sits on its suckers and bracket well with little vibration.
When you approach a Gatso it goes from saying "HIGHWAY" in the display to giving the frequency of the Gatso with a beep then it turns into a field strength meter a male voice tells you which band it has detected then still making the beeps which speed up as you approach the Gatso.


Frequency mode.
Field Strength mode.
So what tests did we do?
The most important one is the Gatso Test. We have a section of road that we use for all Gatso tests, it has one of the lowest radar scatter fields making it more of a challenge to Radar Detectors it also allows us to do the national speed limit if we want to. All the Radar detectors are tested in the same vehicles and in the same position on the windscreen.
The Bel 990 was subjected to three passes using a stopwatch to time the unit from the first beep to the point of passing the Gatso to establish an average warning time . Speed was 60mph. Please note warning times can vary subject to conditions.
Times for the Gatso Test. Roadside FIP
| | |
| --- | --- |
| Approaching Back of Gatso | Approaching Face of Gatso. |
| | |
Times for the Gatso Test. M25 Gantry Gatso.


| | |
| --- | --- |
| Approaching Back of Gatso | Approaching Face of Gatso. |
| | |
Important Note: The Gatso Used was a solo Gantry Gatso on the M25 Motorway. Speed was 80mph
We had the information confirmed by a contact in the Met that no other Gatso was working within 2 miles, this is important since another Gatso near the area can effect the results in a major way since they are mounted so high.
Laser Gun Test.
The Laser gun was used in two ways, the first test was directly at the car with the detector in it, although the detector worked and was instant on alarm, if the officer used the first reading you were in trouble. However they often take a few readings so you may have a chance to slow. The second test was to have two cars in front and the operator target the first car and see if there was enough scatter for the third car to get an alarm, it was not a problem for the Bel we had an alarm in all three runs.
In our opinion you could get a warning or you could get nicked when it come to the Laser alert mode.
False Alarm Test.
This is done over a six mile selection of roads taking in two Gatso's and a town centre with Banks, Supermarkets and DIY stores.
We had three alarms on the K band and none on the X band (X band can be turned off on the 990) The amount of false alarms is important, if it spends all its life beeping at you, you will soon start to ignore it. The amount we got was much lower than the other units tested.
Can we recommend it, YES, we can, it is the best so far.
What do we like.

What don't we like.

It's performance
Clear easy to read display
Voice Alert
Loud Clear Sounds
Selectable Frequencies
User functions
Low False alarms
Build Quality
Instructions
Good choice of mounts
Safety Warning System
Warranty
Upgrade facility
Soft case
Value for money
Accessories (included)

Visor, Dash and Windscreen Mountings
1.8 Meter Coiled Power Cable
Power Lead (straight) - 1.1 meters
Non-Skid Dash Mat
Carrying Pouch
Spare Fuse
2 Year Warranty

Operating Temperatures: (-20 to +70 degrees C)


Power Supply Requirements:
9.6 to 16.0 volt range, 250mA.


Maximum Dimensions: 123mm x 77mm x 35mm.