HEATSHOT, Heated windscreen wash system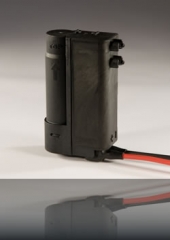 With so many different ways to clean your windscreen, why choose Heatshot?
The answer is simple. Some of these things only solve some of the problems some of the time.
Heatshots system is the all-in-one product that:
Cleans the windscreen
Releases stuck wipers
Clears frozen nozzles
Prolongs the life of the wiper blades
Uses heated fluid
Heats quickly and efficiently
Functions at a standstill and on the move
Works in all types of weather
Heatshot will change the way you clean your windscreen! It does the job all year around, in all weather conditions.
The Heatshot heated wash system is presently the only proven, effective windscreen washer fluid heating system that offers consumers both safety and convenience at an affordable cost. The heated wash patented, patent pending and proprietary technology enables its heating system to heat windscreen washer fluid using a minimal amount of energy produced by the vehicle's electrical system to remove frost, ice, snow and other debris. The system has been proven safe and effective in tests on all types of windscreen glass and in many environments.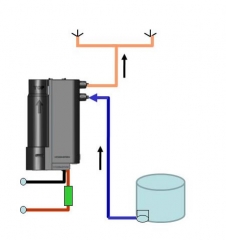 In 2006 and 2007, heated wash was both a finalist and a winner of highly recognised automotive industry awards.
Winter Benefits
De-ices the windscreen within 90secondsto leave a frost free, clear and legal view without need for scraping
Rigorously Tested to -18 degrees Celsius
Ability to continue to use washer fluid effectively whilst driving in sub zero temperatures without having to stop and remove ice
Quickly dissolves SALT and GRIT for improved driver visibility
Unblocks frozen nozzle jets and improves spray coverage in sub zero conditions
Reduces wear and tear on wiper blades for superior cleaning and longevity
Wiper blades more effective when used with warm water
Will NOT crack the windscreen as temperature is regulated to 57Celsius
Will NOT damage or fade car paint work
Summer Benefits
Eliminates windscreen glare more effectively
Reduces amount of washer fluid used as hot water cleans far better and faster than Cold ensuring Heatshot is environmentally friendly
More effective than cold fluid for removing mud, dirt, flies,oil, bird droppings and tree sap
Prolongs the life of the wiper blades
Wiper blades more effective with warm water
Enhances washer cleaning performances
Safety and Security:
Each year thousands of vehicles are stolen as motorists leave the cars running unattended whilst preheating and de-icing the vehicles
Thousands of accidents occur each year through motorists driving with impaired vision through ice and snow as they have failed to clear the windscreen effectively
Example of how I installed it on my Classic Range Rover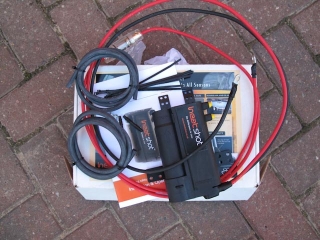 Everything is in the box and pre wired for ease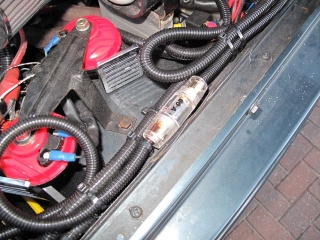 Built in line fuse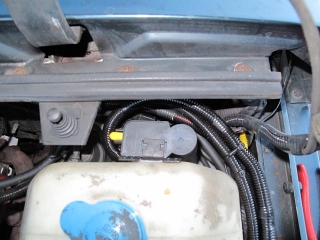 Heatshot fitted to the water bottle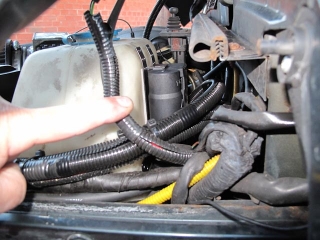 Another view of the heatshot system on the water bottle
I fund it removed the bugs and road film far quicker than ever before, I have yet to try it in the winter. I have since fitted other ones on my other cars. Fitting time was about 45 minutes, all the cables and parts are in the kit. The only thing I added was some copex.
Frequently asked questions.
DOES IT CRACK THE WINDSCREEN OR DAMAGE IT?
NO. See tech page for details.
I HAVE A HEATED WINDSCREEN, WHY DO I NEED A HEATED WASH SYSTEM?
A heated wash system is 25 times faster in clearing a frozen windscreen. A heated windscreen does not allow you to wash/wipe your screen when the temperature is below freezing.
DO I STILL NEED TO USE SCREEN WASH?
The use of windscreen wash is still recommended to achieve optimum performance.
HOW DO I STOP THE WATER BOTTLE / RESERVOIR FREEZING?
In extreme temperatures, it is essential that the correct screen wash (fit for purpose) is used in conjunction with Heatshot, to ensure the reservoir does not freeze. Heatshot will recommend suitable screen wash, to deliver the maximum efficiency and safer driving.
CAN I INSTALL THE SYSTEM MYSELF?
Yes. A demo video available with full written instructions provided with each unit. It should take no more than an hour to fit a Heatshot unit. (Heatshot can be fitted by any garage).
DOES IT EFFECT MY INSURANCE/ WARRANTY?
No. The unit does not interrupt the vehicle management system and does not alter the engine performance of the vehicle therefore should have no bearing on either of the above.
WHERE IS THE UNIT INSTALLED?
Within the engine bay between washer bottle and washer jets. (See demo video or gallery for examples)
CAN IT BE FITTED TO ANY VEHICLE?
To date, Heatshot Ltd have not found any vehicle we cannot fit it to.