POGO Alert+ from Origin Technologies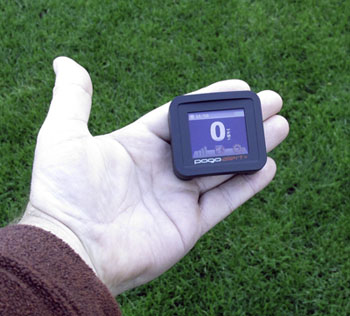 Origin Technologies have always been know for highly functional products and the Pogo Alert Plus is the latest product from their stables.
Upon opening the box the first thing you notice is how small the Pogo Alert + is, it's tiny compared to most of the other systems on the market. It feels great with its matt rubberised finnish and has a little weight to it, giving it a real feel of quality.
It will look great in any vehicle and the design will lend itself to some great discreet installs.
In the box....
Two mounting options are included, a plug and play option which consists of a windscreen sucker mount that holds the supplied laser detector. A dashboard mount that sits on any horizontal flat surface giving a more permanent install. (There is an optional vertical surface mount available as well.) If you use either the vertical or horizontal mounts you will need the optional laser extension cable and laser detector mount if you wish to continue using the Laser detector.
A single power cable comes off either of the mounts. (The mounts are in two parts, and when the two parts come together you get a cradle with all the connections on that you then slot the Pogo Alert + on to. This means when you remove the Pogo Alert + all the cables stay plugged into the cradle). The power cable has a cigarette lighter plug fitted for easy power connection, if you were to hard wire it we would suggest you have fitted a power socket under the dashboard rather than cut the plug off, this then keeps the protection fuse in line.
The Pogo Alert + has a second power option it also has an internal rechargeable battery. How they fitted a battery in the case only they have the answer, but it lasts for 8 hours so they say. It was nearly 4 days of normal driving before I needed to charge it. ( I shut it down fully between each drive)
You also get a USB update cable, alcohol wipe and instructions. The instructions are worth a read as the Pogo Alert + has a whole host of features.
In use...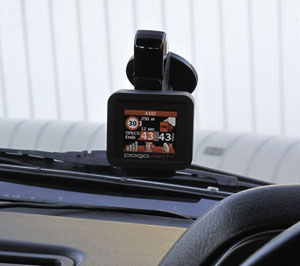 No wires and simple to take on and off
After taking about 5 minutes to install it in a position where it could be seen in the car we decided to have a play with the Pogo Alert + and see what settings we needed to change.
The touch screen O'LED display is simply stunning, O'LED is the way to go, it is crisp, clear and shows great detail. The Pogo Alert + has great looking icons for the functions and the warning screens are very informative, they have clearly thought about how the information in given on the screen. Although I have seen no claim to a fingerprint proof screen it appeared to resist finger prints very well. It remains readable in bright light conditions. Its easy to navigate around and very logical. There are plenty of options to play with and the all important factory reset if you need it, we did..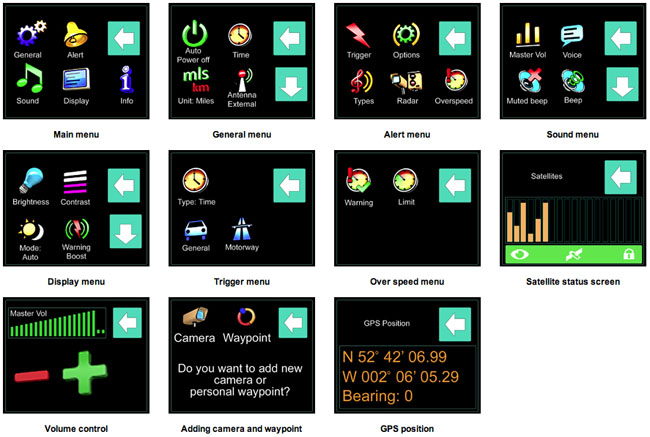 Just a few of the options
We decided to leave the Pogo Alert + on all the factory default settings, most likely the right thing to do, but soon ended up reducing the volume, it has got plenty of volume to play with and we just found the default setting was a little high for our tastes. You can adjust the volume for all the alerts separately, this is quite a cool feature.
Satellite lock is quick and we were on our way. Our first journey covered 130 miles of A roads and Motorways with lots of camera options.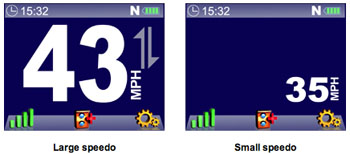 Clear easy to read speedo
In non alert conditions you get a speedo screen, two options a large speedo and small one.
We got all the warnings in good time and no cameras was missed. All the speed limit information was correct. Overall it did exactly what it said on the box. The Origin 360 database lived up to its reputation of being well managed and accurate. It may cost £50 a year to subscribe, but as they say you get what you pay for and for the level of accuracy and service you get from Origin it is a small price to pay.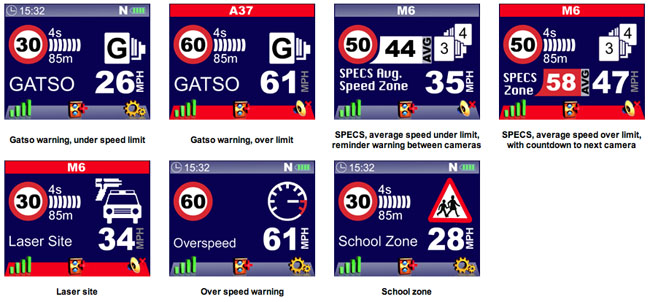 More than enough information is given during a warning
The warning screens and there are many of them, give a high level of detail, depending on the warning type you get speed limit, average speed, camera type, warning type, road details, count down in seconds and metres and your speed. The icons and text are easy to read once again thanks to the O'LED display.
Audio alerts from the Pogo Alert + are easy to understand, the voice works well telling you what's ahead and the speed limit and then the Pogo Alert + reverts to s sequence of beeps. The beep settings you can control. The warnings are direction sensitive, so if the camera is not relevant to you you don't need to be warned.
Overall whether you use the screen or just listen to the audio to get your warnings the Pogo Alert + does it in a precise and accurate way with style. I certainly leaves a lot of other speed camera alert systems behind in its performance.
The Pogo Alert + has some other cool features not included in other GPS speed camera WARNING SYSTEMS.
Data Logger, Journey Tracking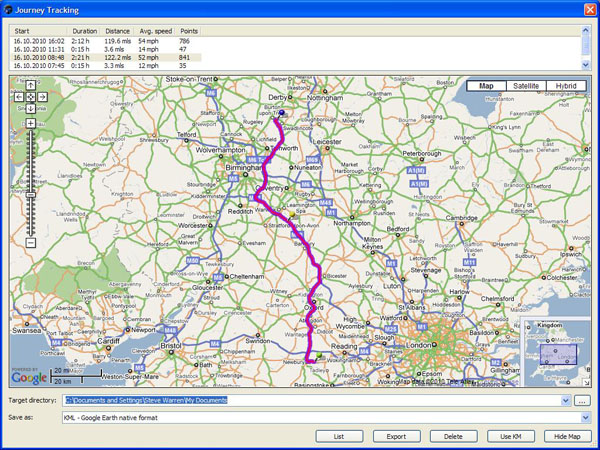 Just one of my trips
There is a data logger is standard in the Pogo Alert + and it records all your journeys. It stores date, average speed, duration and distance. This is a great feature to see where you car has been or record you business trips in detail. You can view the trips on the included software or you can export the data to a KML (Google Earth File), GPX GPS eXchange file or a CSV (Excel) file. A great use for this is for businesses, give your employee a Pogo Alert + speed camera alert system to protect their driving licence and also know where they have been in the last month or more in great detail. The Pogo Alert + stores the most recent 900 hours of journey, that's 37 days of non stop driving!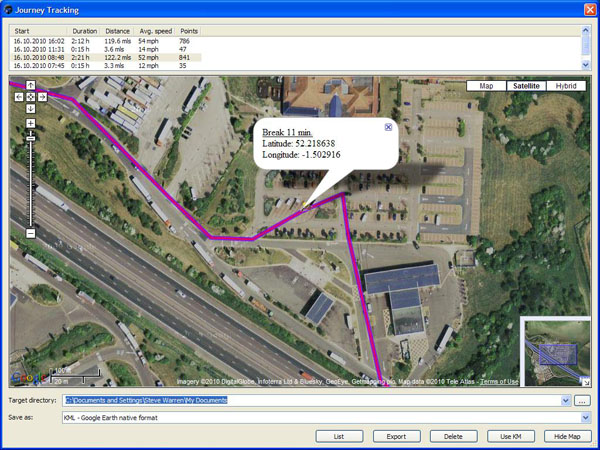 The detail is very good, it even showed where I stopped for a 11 minute break.
Radar Tracking, Radar Alert
This feature records any event alerts that the remote radar head or laser head trigger on, for example a police officer fires a laser gun at you, it records date, time, speed and position and then places this data on Google Earth as a KML file. This is a handy feature as the GPS is deadly accurate and you are then able to compare if the data the police have is correct and if it is not I guess you could appeal with a good solicitor.
Other options
There is a remote GPS antenna option if you need it.
There is a optional radar detector head that will be available in 2011, this will be great for drivers that cross the channel as mobile radar is very common on the continent. I will have more information when this is available.
I am told that you will be able to connect a laser jammer to the Pogo Alert + at some point to combine your systems.
Software and Updates
I think this may be a first, the software is installed in the Pogo Alert +, not on a CD Rom or for download. You simply plug in the Pogo Alert + into your PC or MAC, the PC or Mac will then see it and then you run the software off the Pogo Alert + to install it on to your computer. In effect the Pogo Alert + acts as a memory stick and you can see the files. I found this handy as I could just download the journey files and save them in a safe place.
Installing and running the software is simple and requires no computer skills, updates are a simple click and go and so is downloading the journey logs etc.
They provide software for both a PC and a MAC, all though at the time of writing this review it will not run on the latest MAC OS, nor can you view the journey logs on any MAC. They are however working on the MAC software and expect it out soon.
Can we recommend it, YES, we can.
Origin Technologies have done it again and come up with a simply stunning unit that's easy to use, offers great features and it simply looks fantastic in any vehicle.
Top marks for this high end product...
The Pogo Alert + needs to be on your shopping list if you want to avoid getting a ticket.
The Specs....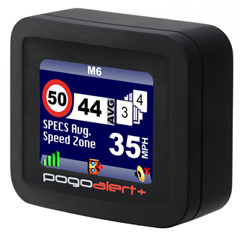 The NEW Pogo Alert +

Pogo Alert+ harnesses the power of orbiting GPS satellites to provide total protection against the threat of fixed safety cameras, mobile laser traps and accident black spots.
Pogo Alert+ combines cutting-edge industrial design with an intuitive graphical user interface featuring custom designed icons, custom designed GPS hardware and the latest screen technology available - a high resolution OLED (Organic Light Emitting Diode) colour touch screen. The result is the most sophisticated safety camera location system ever to take to the road.

Pogo Alert+ has the award-winning Origin360 safety camera database pre-loaded and provides comprehensive audible and visual alerts including safety camera type, speed limit and proximity to hazard. Pogo Alert+ also includes a highly sensitive infra-red laser detector (removable) to provide the fullest protection against mobile laser based speed traps and 'safety camera vans'.

Pogo's safety camera database

Pogo Alert+ utilises the award-winning Origin360 database of safety cameras and accident black spot locations to provide the most accurate and up-to-date information available. This data can be simply downloaded to Pogo Alert+ via PC or Mac with internet connection.

FEATURES

• 1.8" colour OLED with touch screen – latest display technology
• 8 hour battery
• Clear audible and visual alerts
• Simple-to-use, custom icon-driven user interface
• Unique PogoSoft operating system. Patent protected features
• Speed limit advisory
• Vehicle average speed displayed through SPECS average speed camera zones
• Distance to safety camera
• School zone alerts (time sensitive)
• On-board infra-red laser detector (removable)
• Fully portable, plug and play design. Simple to install by the end user
• Dashboard and windscreen mounting kits
• Journey Tracking, via Google Maps
• Updated via Windows or Mac (Mac updates are a new product feature, and an industry first)
• Fully legal to own and use in the UK

Pogo safety camera database

Pogo Alert+ has the award-winning Origin360 safety camera database pre-loaded; the system provides comprehensive audible and visual alerts including safety camera type, speed limit and proximity to hazard. This data can be simply updated by connecting Pogo Alert+ to the internet via PC or Mac.

Pogo Alert+ also includes a highly sensitive infra-red laser detector to provide the fullest protection against mobile laser based speed traps and 'safety camera vans'.

Pogo Alert+ will warn of ALL fixed safety cameras, including:

• Gatso cameras
• Truvelo cameras
• SPECS average speed cameras
• Monitron
• PEEK
• Watchman
• SpeedCurb
• DS2 Speedmaster
• Plus mobile 'safety camera vans', mobile laser guns and accident black spots
• Database of cameras in France, Belgium, Holland, Spain and Portugal

PC and Mac Database updates

The new pogo alert plus is the 1st speed camera detector that can be updated on either a PC or a Mac! With every Pogo Alert Plus unit you get 6 months free subs to the origin 360 camera database. After the 6 months has expired there will a optional charge of £50 a year for up-to-date camera locations for UK & Europe.

Guarantee
Product guarantee Two years


Physical
Display size 1.8"
Display type Colour OLED (Organic Light-Emitting Diode) touch screen
Resolution 250 x 350 pixels
Touch screen Capacitive touch screen
Battery Life 8+ hours
Battery Built in Lithium
PC Connection USB Port
USB Slot USB port for updating
PC/Mac connection via USB port – for safety camera updates and firmware updates
Weight 78g
Dimensions 57mm (w) x 50mm (h) x 23mm (d)


Standard kit
Power supply In-car 12v power cable
In-car mounts Windscreen mount (with suction cup) and top-of-dashboard mount (using Very High Bond (VHB) adhesive). Front-of-dash mount cradle available as an optional extra
Update cable USB Cable
Power Bracket 1 x Power Bracket with 12v power connector plus laser detector and radar detector connectors. Power Bracket works with windscreen mount, top-of-dash mount and (optional) front-of-dash mount
Update software Pre-loaded on each Pogo Alert+ unit; no need for CD Rom to be used to install update software on PC/Mac (this is a new feature on Pogo Alert+)


System requirements
Windows XP, Vista or Windows 7
Mac OS X
Database/firmware updates Via PC/Mac with internet connection