Road Angel Mobile Symbian/GPS Warning System.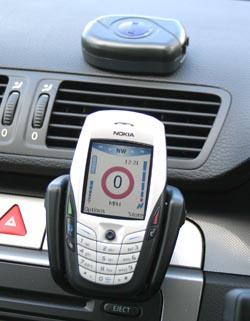 Road Angel Mobile is a great way to see what GPS warning systems are all about or to get your phone working more for you.. Using a Bluetooth GPS receiver, you can turn your Nokia S60 Smart phone into a GPS speed camera locator with the added advantage of using the award winning Road Angel database and lets face it, your phone sits in the car doing nothing most of the time, now its time to give it another roll.
You will need a Nokia Symbian Series 60 2nd Edition software phone and a Bluetooth receiver. (£20 - £100 depending where you buy one)

Registering is done via the www.roadangelmobile.com website and costs a £5 and then A link is sent to your phone and you download the application and your away. A good tip to save a few pounds is to download the software onto your PC over the www, load it to your phone from the PC and then do the update of the database on the phone. Installing the software is straightforward.
Road Angel Mobile is a subscription based service that is conveniently billed directly to your handset every week via a reversed billing service. This removes the need to set up a direct debit or renew your subscription on a regular basis. The initial administration payment also includes a 7 day subscription to the update service, allowing you to update as many times as you wish before needing to subscribe. The weekly subscription costs £1.50 including VAT and is billed directly to your handset. You will be sent a subscription reminder text when your 7 day initial subscription expires.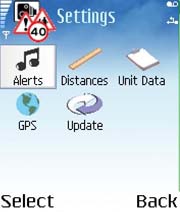 Once installed you can set all your preferences for distance and warning types. Your phone will give you all the warnings you can expect from a dedicated Road Angel, so its a great way to see if GPS is for you, even more so if you can borrow a GPS unit or buy a secondhand GPS receiver.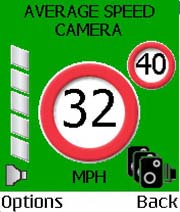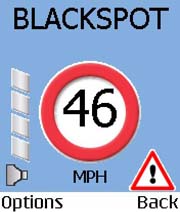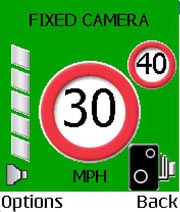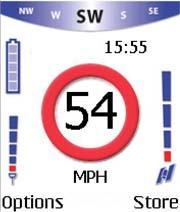 The warnings are given by a page on the screen and a voice warning, again just like a dedicated Road Angel system. The great thing about this system is that it exploits the colour screen of the phone. If you are below the speed limit when you get a warning the screen will be coloured green, if you are over the speed limit then its coloured red. The software works very well. Warnings of 250m to 1000m can be programmed in.
On the Nokia 6600 we used for the test, we could see the screen clearly, hear the warnings no problem and suffered no problems when installing the software. The software does not change or prevent you from making or receiving phone calls.
Overall we were pleased with the performance and decided that its a great way to try a GPS warning system without a big outlay. The receiver we used was a Holux unit and it only cost us £20 on ebay (Secondhand). We had a phone sat in the draw doing nothing and bought a £15 pay as you go sim card to bring the phone back to life. The total outlay was £40 to get the system up and running. The phone sits in the car as a dedicated system and is not used as a phone.

Can we recommend it, Yes.
Simple and easy to install on your phone with a low outlay.
If you have an old Symbian phone no longer in use,
why not make use of the phone and turn it into a Road Angel.
This software will be a very useful addition to your phone.
August 2006