Mini Coyote (UK Edition)
DEC 2009 - THE MINI COYOTE IS NO LONGER SOLD IN THE UK BY THE ORIGNAL DISTRIBUTOR.
Quite a few customers had problems with updates and service and sales were poor.

AUG 2010 - Cobra Security appear to have a new unit, that looks the same but has the addition of a colour screen..
http://www.cobravehiclesecurity.co.uk/products/coyote-safety-systems/mini-coyote.aspx
We will try to get a review done soon, if you have a unit please let us have your comments...
The Mini Coyote has been sold in France for the last year and now for the first time it will be available in the UK to the UK motorist. I have been told that in France they have sold 50 thousand units and it has become the most popular unit over there.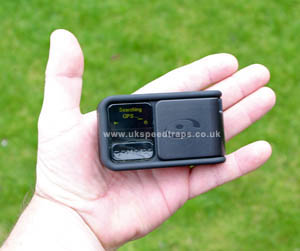 This very clever, yet very simple to use unit uses GSM to do the database updates, no more need to connect to a PC to update the database. It also has an ultra fast mobile camera spot update facility.
At £199.99 with three months subscription included and a running cost of £7 per month for the GPRS it is one of the most competitively priced units on the market.
In the box is the Mini Coyote, ready to go, windscreen clip, magnetic dash mount, power cable/usb programming cable and quick start guide.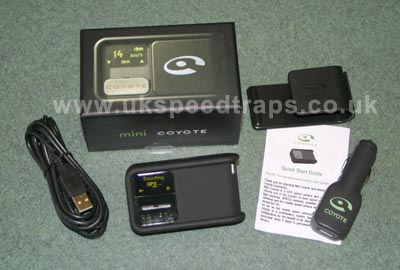 In the box
About the size of a small mobile phone (90mm wide, 50mm high and 25mm deep), it has a clear and crisp orange OLED display on one side with three warning LED's and two buttons for controlling the simple menu and logging a new camera position. It is powered by either by the cars cigarette lighter socket or via its built in 10 hour rechargeable battery.
Mounting the Mini Coyote is simple it either sits on you dashboard via a magnetic dash mount or it sticks to the windscreen via its supplied windscreen clip.
It has a very sensitive GPS receiver and we have tested it behind both a heated windscreen and a heat reflective screen and suffered no GPS signal problems.
As soon as you turn on the Mini Coyote it will update the database and software (if they issue new software), this all happens in the background and you will not even notice it happen. You can connect the Mini Coyote to a PC to change your preferences for warnings etc.
There is a simple menu on the device for changing the volume, language and seeing the serial number and firmware. It is all rather simple and lets face it once you have set a device into the preferences you like, you tend never to change it again.
Its a great device for a technophobe, just take it out of the box and use it.
In use its give you all the warnings you need of fixed and mobile sites. The warning distance is more than enough and all warnings are directional. I drove 200 miles with it during the test, we went through SPECS, Fixed and mobile sites and it did not miss a beat. All the warnings allowed me to slow with plenty of time. The warnings on the display were clear and crisp.


General driving mode screen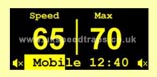 Example of a mobile warning screen
The screen gives information such as the speed limit of the road, your exact speed and the distance to the speed camera in a scrolling bar format, type of camera and if its a live site the the time it was last reported. It even gives the frequency of the use of the site in a simple colour code. Green - Less frequent, Orange - Frequent and Red - Very frequent so you know how much of a risk the site is.
Other information on the display includes battery level, if its charging and time.
The Mini Coyote has a very unique feature, if you spot a new speedtrap you press the store button and three seconds later every one else has the site on their Mini Coyote. Its very simple on how this feature works. Under the display are two buttons, one left, one right. As you are driving if you see a speedtrap on you left then press the left button once, if it is on the right you use the right button. Then all within 3 seconds the unit contacts the main server to get the road information such as the road speed limit and then promptly updates all the other Mini Coyotes out there. Ho cool is that.
Logging a position is the quickest and safest have seen, no scrolling though menus to distract you when you are driving. Just a simple single press of a button and that's it.
We tested this feature and its so quick that you can have a mate following you with a Mini Coyote, lets say half a mile behind you and by the time he is in a position where he would need a warning he has it, in fact he got the warning well before he saw the camera van. This is a real community based system and in my opinion just what the doctor ordered and this takes speed trap alert systems to a whole new level.
With all this super fast updating you have to pay for a subscription, and we worked out that the best way was to buy two years worth in one go and this works out at £7 per month. It may sound high for a subscription, when some companies are now offering free subscription, but in reality you are paying for the GSM service and this cost is controlled by the mobile phone service providers. It is also a fantastic live service that has clearly set a high standard that others will have to follow and you are buying into this.
Mini Coyote will have other features go live over the next few months, such as "Scout", this tells you how meny other users are in front of you. They have plans for other features but would not say what they were.
So is it time to spend some money and upgrade your old unit or join the new revolution in GPS speed camera warnings, yes it is and you will not go wrong in buying the Mini Coyote it is a truly fantastic unit.
Can we recommend it, yes
What do we like.
What don't we like.

It's performance and looks
Very clear display
Clear audio
Build Quality and Feel
Easy and safe to use
Real time software upgrades
Real time super fast camera alerts
Excellent Customer Support.
Price


Its missing a voice. (a minor point as the alert tones do a great job)
Important. You can buy a Mini Coyote from other sites. Please be aware that not all these sites carry the UK Edition. They may well be selling the French Edition and if you get one of these you will find the unit will not update.
Review November 2008