NOVUS Alpha V3 Black Speed Camera and Safety Warning System
UPDATED REVIEW FOR THE NEW 2010 MODEL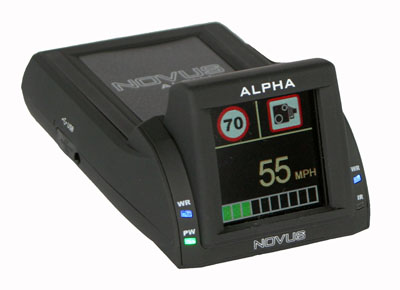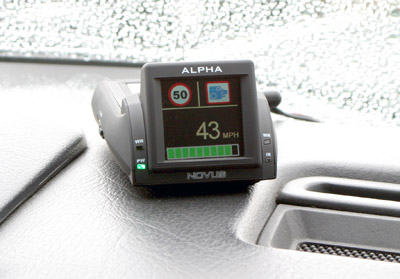 The NEW 2010 V3 Novus Alpha
So what's new in the New Alpha? Well the first thing you will notice is the new case, it is a super smooth satin rubber that now wraps round the updated electronics and really clear o'LED display. It really has made the unit look good and given it a more polished feel, it really now looks at home on any dashboard.
Novus have updated the CPU for a smoother and faster response and added some European speed camera data, I am told more is on its way. The vehicle profiles have been updated as well to include more options.
Two magnetic mounts are in the box along with two power leads.
Overall the Novus Alpha V3 is still exceptional value for money and a top unit to have on your dash.
NEW 2010 Model with black satin rubberised case

NEW 2010 Software with updated vehicle profiles

NEW Processor for smoother and faster response

NEW super cool rubberised satin black case

FREE DATABASE UPDATES

NEW European Data - France, Belgium, Netherlands and Luxembourg. More to follow..

FREE 2 Year Warranty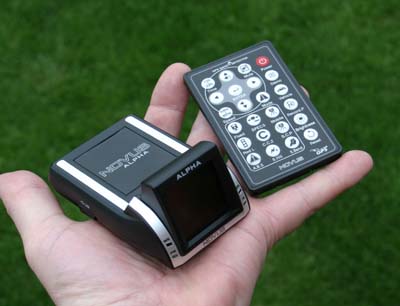 The old Novus Alpha now replaced by the V3 unit
NOVUS is the new name in GPS camera warning systems and currently the Alpha is their top
of the range unit. The pictures I have seen on the internet do not do this unit justice. You need to see it
in the flesh to appreciate this cute but quirky looking unit. Its sits neatly in the palm of your hand and
overall looks and feels well made.
In the box you get the NOVUS Alpha unit, with all of its data pre-installed, so its ready to use, IR
remote control, 3m power lead, magnetic mount, USB update cable and an instruction guide.
The NOVUS Alpha offers a fantastic colour screen. It uses the latest bright OLED display
(organic light-emitting diode) allowing both night and day operation, it can be seen from any angle
and has great colour and clarity. You can easily adjust the brightness of the display using the well
designed IR remote control.
Audio volume and clarity could not be better. The volume gives very little distortion at
maximum and can easily deal with a noisy environment. Volume adjustment is once again
easily done via the IR remote control.
My first thoughts on the IR remote control was it was a bit of a gimmick, but as soon as you start
to use it you realise that changing settings could not be any easier. Selecting settings are just a few
presses of the relevant buttons, for example turning on/off a warning such as sharp bends is only
three presses of the IR remote. There are dedicated buttons for most of the features. The menu is
dead easy to understand. Overall for the IR remote control I would
give 10 out of 10 for functionality.
There are some industry firsts in this unit and some of these features I know people have
been asking for.
The NOVUS Alpha offers road profiling and because of this you can select the type of vehicle
you are in, Car/Motorbike, Towing Car, Bus/Coach, Good vehicle below 7.5 tons, Articulated or
towing and Goods vehicle exceeding 7.5 tons this then will reconfigure the warnings to that type
of vehicle. This has never been done before and is a truly great feature as it warns you of the
speed limit for your type of vehicle.
As I have said the NOVUS Alpha offers road profiling this removes false alerts by using a two
position activation method, using an initial activation point and camera location. Novus Alpha
will only generate a warning when a vehicle passes an activation point and is driving towards
the camera. Should a vehicle be driving from the opposite direction, the vehicle will not pass the
activation point and no false alarm will be raised. If the driver joins from a side road after the
activation point, then Novus Alpha senses the direction of travel and compares it with the direction
of the speed camera and activation point and warns the driver of a speed camera ahead if driving
in the direction of the camera.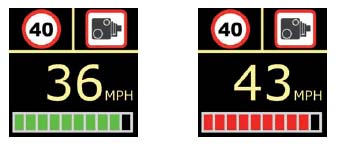 Two examples of a camera warning.
On the left as you approach a camera below the speed limit (Green)
On the right as you approach a camera exceeding the speed limit (Red)
In use the Novus Alpha displays your current speed and database warns the driver of an approaching
speed camera by a clear voice alert at 500 yards. It then announces and displays the speed limit of
the road for your type of vehicle you have selected in the settings. If at 200 yards your vehicle is
still exceeding the speed limit the Novus Alpha will advise the driver to reduce speed. The voice
warnings are great, simple to understand, clear and accurate. The screen gives you all the
information you need.
Warnings of fixed cameras including Gatso,
Truvelo, SPECS, Speedmaster and DS2

Warning of red light cameras

Warning of possible mobile sites

Warnings of accident black spots

Unique vehicle based road profiling feature

Timed warning of congestion charging zone

Additional journey information including
compass, average speed, maximum speed,
elapsed time and odometer

SOS positioning feature providing precise
GPS location in the event of breakdown or
emergency
Updating the unit is simple using the provided USB cable. First time users need to download
the update installer then once that has been installed on your PC, return to their website and
download the updates. They offer free lifetime updates.
Can we recommend it, YES, we can.
This is a fantastic unit for £149
Using the Novus Alpha is simple and it is easily one of the best units I have used for a long time.
What do we like.
What don't we like.

It's performance and range of warnings
Great colour display
Clear voice alerts
Road and Vehicle profiling
IR Remote control for easy access to user functions
Free Lifetime updates
Very informative Instructions
Simple mount
Long power Cord
Great Price




We haven't found anything apart from the lack of a
remote antenna connection. This will not be a problem
unless you have a vehicle with all round UV coated
glass (quite rare)
(We have now tested all the NOVUS products behind
UV glass, in the foot well in the radio cubby hole and
found the units to have no problem in getting a signal)