GEODESY GPS SpeedTrap Location System.

Manufactured by Morpheous in the UK Field Test done with South Yorkshire Police and review of the final product.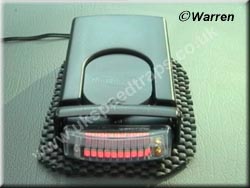 Left: Geodesy Unit in standby, the single blue light is fab and looks the business.
Right: Geodesy Unit in full alarm
The UK Speedtrap Guide was One Of The First to be involved in the test of the new GEODESY GPS SpeedTrap Location System and now The UK SpeedTrap Guide is the first internet site to review the final product.
Until now you relied on any speedtrap giving out a signal that a detector would pick up. This leaves quite a few speedtraps undetectable and you open to getting a speeding ticket. With the installation of the SPECS system and the wide use of Speedmaster and DS2 a GPS system was the only solution, Morpheous has patented and made a small up dateable unit to go in your car or on your bike.

The GEODESY is NOT a Radar detector. They say this premier safety device is 100% legal and 100% unique in its ability to accurately and reliably identify Speed Detection Devices.
By using the Global Positioning System (GPS) and an extensive UK database of various fixed Speed Detection Device locations. On approaching a location the GEODESY is able to locate its geographical position and can then calculate the distance to the nearest fixed Speed Detection Device. Provided the resultant distance is less than a user specified distance (typically 6 tenths of a mile), the warning signal is converted and displayed by a series of sounds and lights illuminated on a display designed to attract the users attention regardless of the ambient light conditions.
GEODESY relies on information in the database and it is important to update the positions of new Speed Detection Device installation sites as much as you can. Suggested, is every night. They also rely on you telling them if a site has been removed, you do this by phone.
So what does it look like?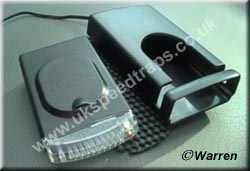 Above: Geodesy unit and cradle, known as the power clip.
Its about the size of a large pack of cigarette's, very slim, black and very strong.
In the box you get 1 x Geodesy, 2 x Power Clips (one with a cigarette lighter plug, one for hard wiring) 2 x adhesive pads for the power clip, 2 x self stripping poser connector's, 1 x Modem interface unit, 1 x phone cable and twin adapter, 1 x power supply for Modem interface unit, 2 x Alcohol wipes. One very clear and well authored user guide. Expect other accessories to come out in the future, they have made the unit part of a module, so such things as screens, computer kits and other interfaces can be expected.
The Geodesy has been sealed well enough to handle the elements when its mounted on a motorbike. All the contacts and the only button are gold plated to resist corrosion.
For the people that like to fiddle with buttons you are going to be very disappointed, it only has one, used to mute the system and mark a new location, that's it. No volume, no on/off switch, no nothing, all changes are made by contacting Morpheous and asking for the volume to be changed and many other features for that.. Then when you next update the system using the supplied modem you requested setting will also be changed... its all very cool what you can do. I
They will be doing an interface for your personal computer so you can make changes yourself. Great stuff is also included, like the ability to disable the unit if its stolen from you by notifying the Morpheous Technical Support Team.
In use the Geodesy is ace, in a few miles you get used to how it works, it knows exactly where you are at any time, they way the LED's work are dependent on the scale you have set the unit, but in my case its set for a mile so each LED equates to 1 tenth of a mile, now that mile is a radius so if you are moving on a road with no cameras on it but there is a road within the mile your LED's will respond, but they will not reach the maximum of ten, once you get used to this your away. The unit is simply stunning and I now will go nowhere without it. It acquires satellites very quickly when first powered up compared to a standard GPS unit, and the ultimate test is to go into a tunnel, loose the signal and then come out, it gets the signal straight away and in lest than a second it has your position... the standard GPS unit takes up to 20 seconds to reacquire. Even the high cost Navigation GPS systems can't compete.
Even though the sound of the unit is quite low the LEDs are so bright you can't miss them.
The display brightness will automatically reduce at night, The Sound Volume can be set to automatically decrease with reduction in speed and much more can be done.
Its been shock tested to 18g, vibration tested to withstand a v-twin motorbike engine and has seen more artificial rain than the UK sees in a month... they say, all I could offer it was a bucket of water and it loved it, working away.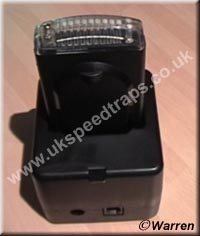 Above: Geodesy in desktop interface/modem
You get a Desktop Interface which you connect to the telephone line. You place the GEODESY into the Desktop Interface which instructs the unit to dial up and connect automatically to the Morpheous network, you do nothing apart from watch the lights do their thing. This allows the GEODESY to remotely synchronise data including additional Speed Detection Devices and the removal of inactive Speed Detection Devices, as well as informing the Morpheous database of Speed Detection Devices stored by the user. Update times are around a minute.
The cost is a local telephone call and the update service is free for the first year after that the service is £30.00 a year.
So what did we think?
Sheffield Test: The unit was fitted on to one of the test bikes, this was a prototype unit and the case had not been made yet. It gave all the warning you needed for a Gatso, with a clear row of very bright red LED's. And no false alarms in any way... that will make a change.
The Latest Test:This was done with the final product as you can see in the pictures above... on a 450 mile business trip along the A50 (Gatso Alley) and the A14 the unit was giving a warning that gave you plenty of time to react, a 1 mile warning was set on the unit.. The unit starts by turning one red LED at a time out of the ten LED's, under the current settings one LED indicates one tenth of the selected distance, in my case one LED represented 1/10 of a mile so you had 9 tenths left before you were in the zone of the speed camera, the built up as you got closer. When they hit 5 LED's they start to flash slowly, when the sixth LED illuminates the sounder emits a tone, the tone then increases as you get closer to the speedtrap or accident blackspot. When you pass the trap zone the LED's all go green and start to count down as you go further away. It worked every time....
The sounder can be muted by pressing the only button on the unit.
The GPS engine will cope with speeds in excess of 500m/sec and handle search of 16000 locations in 1 second... impressive stuff.
Without doubt if you keep this unit up to date it will offer a great service. We gave it top marks for performance you have no excuse for getting a ticket. On a serious plus side, this unit will give you a good mile warning of accident black spots, after all that's were the Gatso's are fitted, ain't they?
At £380 is not cheap, but then its not built cheap, its a very well made unit and allot of attention to detail has been put into this kit.
What do we like.
What don't we like.

It's performance is stunning
Simplicity in use
The blue online status LED, it looks ace......

Clear easy to read display

Zero rate false alarms

Build Quality
Size

Instructions

Good choice of mounts

Warranty
Customer Support

Upgrade facility


No soft case.
No remote antenna connector in case the law changes so it can be hidden.
The odd false alarm because cameras have been moved, but thats no big deal.
No camera removed button.

Can we recommend it, YES, we can.
This is a state of the art must have gadget for your Bike or Car and is real ticket saver.