Blackspot Interactive Ltd. Road Angel Plus GPS Warning System.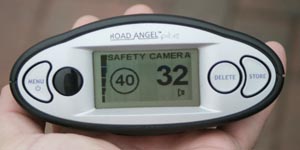 After my experience of the Road Angel 2, I was really excited to be asked to write another review for the upgraded Road Angel Plus the latest edition of this version of Blackspot Interactive's GPS Warning Systems.
The box arrived and where as the last version was a little daunting when trying to work out how to get it into my car the installation of the Road Angel Plus was even easier than before. Again, it is pretty much a plug and play operation although it is always advisable to install the software on your PC first and download the latest database before you start. The upgraded cradle for your windscreen really seems to hold the unit much better than the old model as well and because it is plastic instead of metal you don't get any rattling against your dashboard if you position it too close.
Installation took no more than 5 minutes with the Road Angel Plus, as once you have mounted the cradle and plugged the unit into your cigarette lighter you are ready to go. The Road Angel Plus also benefits from the additional feature of being re-chargeable and once fully charged will operate for the quoted 8 hours although I am advised that some units have been known to hold a charge for a lot longer than this. Once fully charged you can remove the connection to your cigarette lighter and switch the unit on or off as you wish and simply plug it back in when a top up is required.
Another nice feature of the Road Angel Plus is the fact that Blackspot have obviously understood that some people may not remember to switch the unit off when they park up. To ensure that you don't lose all the charge in your battery when stationary the unit is fitted with a motion detector so it actually switches itself off when it realises that the car has not been in motion for a short amount of time. When you get back in and continue on your journey it simply switches itself back on again once it realizes you are moving again.
The cable for the cigarette lighter is the short-coiled wire similar to that of the old unit and is great because it does stretch for some distance if required. Because of the way it is designed when I have it plugged in, I don't usually notice that it is there as it hugs the dashboard so neatly I quite often forget to take it out when the battery is charged.
The Road Angel Plus arrives ready to use, however, there are a number of different settings for you to play around with and change to make the Road Angel more suited to your requirements. As with the Road Angel 2, I would again recommend the single beep feature, speed volume and low speed mute options to prevent you jumping out of your skin whenever the unit is activated.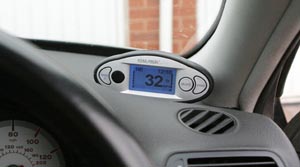 One of the new features of the Road Angel plus is the addition of Speed Limits when approaching a camera. Now when I am approaching a camera the unit advises me of the last recorded speed limit for the road that I am traveling down. It obviously always pays to check as speed limits can and do change and so you can get caught out. For instance when roadwork's have recently commenced it would be impossible for the Road Angel to be completely up to date all the time. Having said that so long as you update regularly as I do I have not found an incorrect speed limit yet. Blackspot Interactive have also included a nice feature where the display remains with a blue backlight when you are below the speed limit but flashes red when you go above it. The new unit also has a much clearer display and no longer looks like a large digital watch on your dashboard and somehow they have even designed it so that you can see the display just as clearly when you are wearing sunglasses.
The speed camera database is of the usual high quality and the only Speed Cameras that it has not warned me of so far were some new ones that had recently been installed on the M4, but then it is still a very simple operation to add new cameras and can even be done wile you are driving along, although I probably shouldn't say that. The Road Angel Plus has retained the facility to set the Range that the Road Angel alerts you of an impending camera from 250 metres up to 1000 metres. I have mine set for 250 metres but this is really down to personal preference.
The Average Speed Cameras alert don't seem to annoy me in the new Road Angel Plus as they did in the old unit although I am sure that the continual beeps are the same and again they really do make you pay attention to your speed so it is a very useful feature.
The Congestion Charge alert has remained and is very useful for anyone who travels into London regularly on business. It is also useful if like me you try to find alternative routes when getting stuck in traffic as it will advise you when you have strayed into the zone so reduces the risk of receiving an unwanted fine from Mr. Livingstone.
The alert for Accident Black Spots remains a feature although I have to say that I do tend to have this switched off now, as there seem to be so many nutters on the road now that realistically everywhere could be considered a Blackspot. The fact is though that the unit contains a database of those areas that regularly experience accidents. So if you are driving in an area that you don't know and are usually a little bit heavy with your right foot this again is a very useful feature to have.
The School Alerts database is now complete and kept up to date and will warn you with the children crossing sign on the display should you approach a school on your journey.
Again I am extremely impressed with the Road Angel Plus, Blackspot Interactive has made some great improvements to an already impressive piece of kit. Reviewing this piece of equipment has also meant that I have been able to keep hold of a unit for my car as my wife has stolen the other one because she liked it so much. Both of us now use the Road Angel instead of the Speedometer in the car as you will find that this is much more accurate and if positioned on your dashboard means you can check your speed without taking your eyes off the road.
I still maintain that this is not a gadget or a toy; this is an investment and will really help to safeguard your licence.

Time for the verdict:
Is it possible to improve on an already fantastic product? Well Blackspot Interactive have proved that yes it is possible. They have looked to not only add new features to the Road Angel but improve on those which already made it a cut above the rest.
Nice job Blackspot!
Grant Jones, Wilmington, Kent

Review July 2006