Above: The Inforad unit. Power comes out of the
side not the back making it messy

The Inforad is a GPS enabled Speed Camera warning system from Toad.
In the box you get the Inforad, Duel Purpose USB Download Cable / Car power lead, Car Power adaptor and two Velcro pads. The unit is dashboard mounted.
The Inforad is by far the lowest priced GPS system available on the market. Its cheep compared to the other units on the market but it also looks and feels very cheep.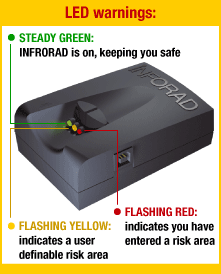 The warnings are received by three LED's and sound. Green flashing tells you its looking for satellites. Steady green and its locked onto the satellites and ready. Flashing orange and 2 brief sounds tells you it is warning you of a potential risk. Red flashing and 3 brief sounds tells you it is warning you of a certified risk zone. Flashing red and a continuous sound tells you that you are over the speed limit of risk area.
In use the Inforad works well and does the job you would expect, but the amount of information it gives you is very vague so you are not told what type of speed trap you are approaching.
There is a mute button and a button to store locations. You also have the option to add a remote antenna should you have a heated or UV screen. The unit will also work on 12/24v.
Warnings are given no matter which direction the speed trap is facing.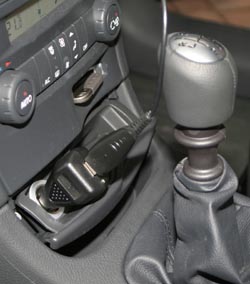 Above: The power adaptor is so big that in my car it
gets in the way of the gear stick
You start by placing the unit on your dashboard making sure you can see the small LED's, watch for problems with the sun as it can wash out the LED's making them hard to see. Them you plug it in with its rather clumsy power supply system, it stick out miles and into the side of the Inforad unit again sticking out quite a bit. Then away you go.
Can we recommend it, Yes.
It is limited in what it offers, looks a bit cheep, but if cost is a real issue you should consider this unit.
It does the job. It is simple and easy to use and makes for a great first time unit. One for your shopping list?
What do we like.
What don't we like.

It's performance
Price, great starter unit
Internet updating for new Speedtraps
Customer Support
European database
1 year free updates

Very Limited features
Cheep looks
Clumsy power supply set-up
Please note. This review was accurate at the time of publishing it is well worth looking at the Inforad site to see what has changed.