Laser Jammer and Remote Control Testing Service
Got one?
Not sure if its setup right?
Want it tested?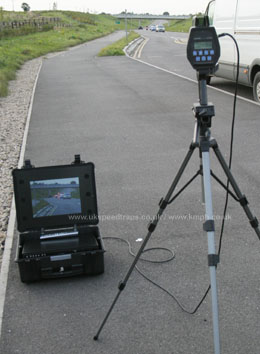 Above: Laser Gun and System Case
The UK SpeedTrap Guide now offers a unique service to test your Laser Jammer and Remote Control.
We offer tests using some common laser guns at out home location in Burton upon Trent.

Group tests are welcome and may get a discount.

Cost is £50 and most tests are held during the weekends and are always pre-booked.
You may want to bring some tools along in case you need to adjust the system.
Tests typically last about an hour and are held on a public road so we ask you to obey the law.

For more information please contact
the UK SpeedTrap Guide

Important Information:

The information gained in having your Laser Remote Control tested is provided purely for information purposes.
Laser Remote Control Tests are provided 'as is' without warranty or term of any kind, either expressed or implied, including,
but not limited to any implied warranties or terms of merchant ability, fitness for a particular purpose,
or non-infringement , all such implied terms and warranties are hereby excluded.
By having a test you agree that The UK SpeedTrap Guide, The Webmaster and associate
will not be liable for any direct, indirect or consequential loss arising from the use of the information
gained in the test, including without limitations, any lost profits, business interruptions, or other,
even if I The Webmaster is expressly advised of the possibility of such damages.
The Laser Remote Control Test is being provided by the webmaster or associate for the sole purpose of education.
It is in his belief that the spread of information is a worthy cause and that the information should be used
solely to satisfy one's curiosity and should not be used in any immoral or illegal way.
Furthermore, the webmaster shall not be held liable for the accuracy of the information gained in the test, or for the use or
misuse of the information gained in the test.
The above exclusions and limitations apply only to the extent permitted by law.

In short don't blame me if one day you get nicked for speeding.......
The police have plenty of other ways to get you...