Driven by the Force

On Friday 20th October 2000 I was given the wonderful opportunity to go out on shift with
Nottingham Traffic Police, Tony Arins was my host for the evening shift.
TANGO BRAVO 22 was the call sign.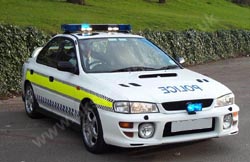 Above: One of the best company cars you can have.
Tony has been in the police for 17 years and has done the last 8 years in traffic. A typical shift for Tony is 8 - 10 hours and he could cover between 60 and 100 miles in any one shift.
On asking Tony, "What's your favourite car that you have used in traffic?" He replied "It has to be the Subaru Impreza."
Looking after the Nottingham City area in his fully marked Suburu Impreza Tony acts as a fast response and support unit..
The meeting point was Clifton Police station.
17:28 - Within a minute of me getting in the car we had a call to a road traffic accident, on went the blues and twos, off went the scooby, within seconds you could see the skill of a highly trained officer at work. This was not a race to get there first, but all part of a controlled fast response, with everyone's safety in mind.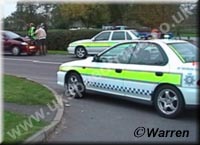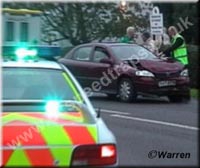 Above Left: Two cars & one ambulance... all down to someone not paying attention.
Above Right: The Astra was driven by a woman with two kids in the back.
17:48 - We arrived at the scene, 2 police cars, 1 ambulance and a straight bit of road with a national speedlimit.
The accident consisted of two cars, one driven by a lady with two kids in the back and one by an ex-police officer. The officer had slowed to let someone out of a junction in rush hour traffic, and the woman who never slowed down ran in to the back of the ex-officer. She was being attended to by a paramedic along with the kids. The officer was okay but a little shaken.
This simple accident might have been caused by someone not paying attention, it cost an hour of police time, paramedics time and held up traffic.
18:19 - We left the scene after the tow truck arrived to remove the ladies car. It was off to the Police station for snap (Dinner), it might sound early but Tony started his shift at 14:00
At the station I met Hungry Mick he is one of the officers in the armed response unit, and another reader of my site. You may have seen in the press that Nottingham police are carrying guns full time in the evenings as a response to the problem of drug dealers using guns. The dealers have been shooting at each other to protect their patch..
"The effect has been very good," Mick told me, "we have significantly reduced the amount of gun related crime in Nottingham, the operation in Nottingham is ongoing."
Mick uses a Volvo T5, fully fitted out with VASCAR and Video, a locking safe between the two front seats houses the guns. Mick ended up at Keyworth that evening to look into reports of gunfire !! The sleepiest village you could imagine in South Notts.. they managed to find a 9mm unused bullet on a school playground.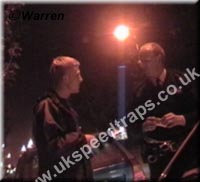 Above: The AX driver getting a little talking to.
20:07 - After snap we are back on the road. A Citroen AX stood out, he was trying hard to race a BMW but the BMW looked unaware so the AX was the one stopped. The driver admitted he was trying to get his own back on the BMW driver. As in most cases the documents were asked for and checked. The driver was given some advice on his driving.
Time to ask a few questions.
What is your biggest pet hate that public drivers do? - There are many but l particularly don't go a lot on motorway drivers who have a mortgage on the middle lane.
Are drivers over persecuted for speeding, and would you like to see higher limits on motorways? - Over persecuted, no, but motorists generally have always been an easy target for revenue, whether it be speeding fines, petrol duty or bridge tolls. The bottom line is if you don't speed you can't be persecuted. With regard to motorway speed limits, l don't believe they should be increased. You only have to look at how many motorists fail to slow down during poor visibility and wet road conditions. How many motorists adhere to temporary 50mph limits when travelling past roadworks? In my experience, very few. An 80mph limit would be abused in much the same fashion as the present limit so 90-95mph would be seen to be an acceptable speed for some.
Should the driving test be harder and contain more subjects? - The new driving test has gone some way in addressing the issue but it's still not perfect. I have to say though that however hard the test is made, it will still not equipe a new driver properly. Only experience can do that.
What are your thoughts on drivers using gadgets for locating or jamming speedtrap devices? - I know there are all sorts of devices on the market. Some work, some don't. Could the users of such devices be attempting to pervert the course of justice? I've not researched it so I'm not sure, it's just something a colleague mentioned to me the other day. I believe they're expensive though can be effective against laser devices but there are also other speed detection systems currently in use which a jammer wouldn't be of any use. The cheaper option would be to keep the speed down in the first place.
20:14 - We are on patrol round a housing estate, Broxtowe, its well known for joyriders and burn-outs. Tony said he was very surprised that they do not get more accidents in this area because of all the kids playing. Young kids were all over the place and almost every part of the tarmac was covered in skid mark's. Its has been known for the residents to bring out chairs and watch the joyriders at work.
"Subaru" shouted one of the kids, it was the 4th time we heard this, the kids often gave respect signs as the scooby went past. Tony said it was the only car in the force that was shown this respect all over town by all the local youths.
The scooby also has an effect on joyriders, they know there is nothing to touch it and the only way they will get away is if they go over give way junctions and doing traffic lights at 60 - 70 mph, but they always get caught and then the book is thrown at them even harder. On the estate we do a "code 2 check on a car with a noisy exhaust, the driver being followed kept his speed down and also his revs to stop the noise, Tony left him alone.
20:26 - We are called to a possible break-in at Rent-a-Kill, on went the blues and twos and once again off went the scooby. Never was a risk taken and Tony's skills were once again tested by drivers that were not looking and content to cross the path of the scooby. We arrived and soon after the dog van arrived, one of the other fast response team had all ready arrived and was checking out the site.
20:44 - We are asked to go and check reports that a youth was trapped in his car by a load of other youths in Whitemore Road. On arrival there is no youth in a car just a large group of youths getting up to no good. One on crutches was reported to be using them to hit other people. They all parted when the police car arrived and no one asked for any help. It turns out they were trying to bump a car out of a car park. More police time wasted...
"It's job, to job, to job, and they are mainly nothing," said Tony. You can see it gets annoying.
21:11 - Our first speeder, this guy was driving very badly weaving in and out the traffic, Tony kept his distance using the VASCAR timing him between target points. The driver was easy to keep track of because he had his rear fog light on, it was a nice warn clear night. Before we could pull him, he managed to put himself in a position where we could not follow him safely and another call came in for assistance to escort a Volvo T5 ambulance to the city hospitable so this driver had a lucky night without even knowing it.
21:14 - We are off to Saxondale or a bit closer, the T5 ambulance driver is not sure of the route into the hospital and he had very little time to get a kidney there for a waiting transplant. Charlie 24 another fast response car is also going to meet us, they plan to leap frog between the junctions to allow the ambulance car to maintain a continuous speed. Tony said this would be a long run about 10 - 13 miles at quite a high speed.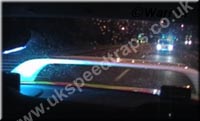 Above: The T5 Ambulance is behind us.
21: 29 - We are off, not even the space shuttle could pull away like the scooby did, the ambulance T5 is behind us. Tony is pulling away very fast to get to the first roundabout to stop the traffic, the other police car is still catching up. All the lights and sirens going, the ambulance is a fair distance behind us as we come to the first roundabout one of many we will have to cover. The road is damp and greasy, but the scooby makes light work of it and the skills Tony has been taught allow him to use the scooby almost to the full.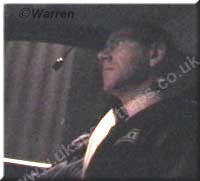 Above: Tony's eyes never leave the road
We get stuck behind a lorry and this allows the other police car, another Volvo T5 to catch up with us, now the escort was complete.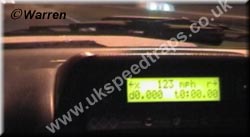 Above: The VASCAR shows 123mph!
The A52 has always been a fast road in some places but I have not seen speeds of 123mph on here before until now. Tony always used caution when going at speed and never used the full capability of the scooby, its not about how fast you can go, its about safety!
The amount of over compensation from other drivers was unreal, one driver panicked so much he was up on the curb. "It was a standard reaction", said Tony.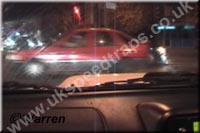 Above: Some people just don't want to stop!
At most of the traffic lights other cars almost refused to stop for the police car, and it became very apparent that without the help of the police the ambulance would have certainly made slower progress through the city, having to slow down more for traffic lights, junctions and half asleep drivers.
On the run back we went through the SPECS cameras, so it would be interesting to see if the video camera I had set-up would see them. It did. You could easily see on the video the two illuminators.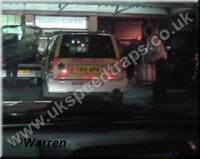 Above: The T5 Ambulance arrives just in time for the transplant of the kidney.
The ambulance driver was very thankful of the assistance.
21:41 - We arrive at the hospital, the kidney is just in time for the transplant. Tony is a highly skilled driver and the last 14 miles proved that to me. The trip took 12 minutes, and I can honestly say I have never been so fast in Nottingham and felt so safe. The speeds were well justified, the kidney had less than half an hour before it was useless.
21:58 - A white Ford Escort grabs our attention, but as soon as he see the scooby he behaves and Tony decides to take it no further.

Above: Tony points out the light problem.
22:14 - We are now following a motorbike on the A52, a VASCAR check confirms he is not speeding but he has no rear lights. So Tony has no option but to pull him over, on go the lights and the biker confirms he has noticed but delays pulling over till he gets to a lay-by. This was a good response by the biker. Both the brake light and the rear light had failed, it was electrical, so not much could be done. He was local and Tony allowed him to continue home to sort the problem out.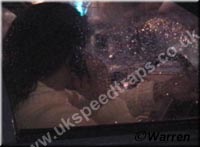 Above: Using a phone next to a police car only attracts attention...
not wearing your seatbelt just adds the the attention.
23:03 - Its our last trip through the city before I am dropped off back at Clifton Police Station, its been raining most of the night, this keeps most of the trouble off the streets. We sat at the lights and on our left is someone in a Fiesta playing with their cell-phone, they drove off using the phone so Tony followed the car for a little while. Calling in a code 2 (moving vehicle check) no reports came back, but Tony was getting more concerned with the style of driving from the occupant of the Fiesta. It soon became very apparent that this driver was not with it, the driving was very erratic and we witnessed a few very close calls.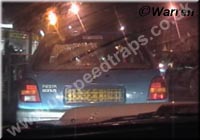 Above: and before you know it you have been pulled.....
Tony then noticed no seat belt was being worn, so it was time to pull this driver over. But that was not going to be easy, with all the lights on and the main beam flashing it took just over a minute to stop the driver. It was not long before the driver was in the back of the scooby, at that point you could smell the drink.
Out came the breathalyser, and Tony explained very clearly what he wanted the driver to do, but again it was not going to be easy. The driver tried all sorts of ways to make it look like he was blowing in the tube but each time the breathalyser showed a fault. "If you don't blow properly this time", said Tony, "I will have to arrest you"
The driver blew and the unit came up with a fail, he was arrested. He was taken to the police station to be charged. On the breathalyser in the station he was shown to be 80ugs, the limit is 35. He was charged and bailed to court. Tony's shift is over at midnight, but because of the drink driver he would finish late again.
I joined halfway through a shift and found it to be an interesting night, it was great to meet some of the officers that read my website.
All I can say once again. I have said it before in this website, give these guys the respect they deserve, they are highly trained professionals working in a under resourced job, getting all the flack for some of the crap decisions the council and government make. They are only doing their job, some parts of that job they do not agree with but they have to do it.
My thanks goes out to Tony and his colleague's for allowing me to join them on a shift... it was an eye opener and a rare opportunity.