Snooper S6 Neo GPS/Radar/Laser Warning System. Readers Reviews.
---
Review 1: My Thanks to JD. March 2004
Having bought a new Snooper S6 Neo exactly 1 year ago, I can offer the following review based upon my personal experience of the product.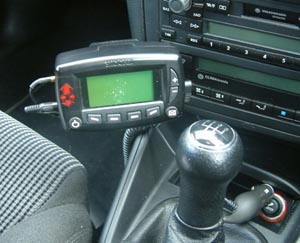 Above:
S6 Neo main units mounted in centre consul
It looks chunky and is very visible in this position.
Wires are also very vulnerable.
Box Contents
Supplied in 2 shiny boxes the S6 came with good fitting instructions. A good selection of brackets and mounts for both the S6 and Radar/Laser head. However the S6 control box bracket did not allow me to fit the S6 to the centre console so I bought a mobile phone cradle bracket for £15 and this served better for centre console fitting. The R/L Head had mounts for on screen or grill mounting.
Fitting the S6 Neo
I had the unit installed permanently within the car, the control box being the only removable part for security. The RLD sensor fixed well into my lower front bumper just below the number plate. It was however quite chunky and is very visible. Cable length was adequate for my medium hatch for all the parts.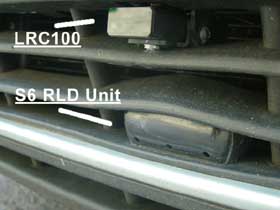 Above: Wedged into the Golf Grill, chunky and
visible but out of the way.
In use
Initially I tested the S6 with no fixed site database installed to test the effectiveness of the RLD sensor. I received no false laser alerts but Low warning K band alerts were coming through almost every few minutes. It was better during rural driving but still un acceptable. The constant K band alerts rapidly became very annoying.
I then registered the product to receive my free 6 months fixed site database downloads. The download procedure was very easily done through the menus. By plugging the unit into the mains with the mains adapter (provided) and attaching the modem cable to the phone line it was pretty user friendly. However, typically a download fails 2 or 3 times before it works properly. I assume this is down to the usual problems associated with remote dial ups.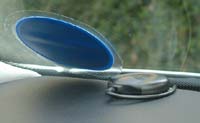 Above: GPS antenna
On testing the GPS database in March 2003 it was very effective for most Gatso's in my area. I quickly customised the warning distance down to 250 Meters although you can have it over a kilometre! Having used the product over a period the fixed site database seems to have got a lot better. By keeping the unit up to date I now never come across a Gatso that is not within the database. Gatso's that have been removed in my area have also been removed from the database within a couple of months or so.
Going back to the RLD sensor. Having been driven mad by the constant K band warnings I set up the unit to only detect laser and no radar at all. The car is also fitted with a laser diffuser (LRC 100). We conducted tests with a police laser gun. Both products reacted to the laser attack but I was disappointed that the Snooper gave it's alert at least 1 second after the LRC 100!
After sales Service
A company called performance products provide the after sales care within the UK for this unit. I did have reason to call upon them when the power connector to the control box failed due to constant plugging in and unplugging. I was very happy to find that the day following my call to them a new power cable had arrived!
To sum up I would say that that the S6 makes a good GPS unit
but the Laser and radar unit has a lot to be desired.
What I like.

What I don't like.

Good GPS fixed site detection
Easy Install
Good Back up service
Easily customised through logical menus

Price
RLD sensor not very effective
False Alarms on K band
Size of control box and RLD sensor too big
---
Review 2: My Thanks to Andy. March 2004
Hi,

I'm no expert, but after 6 months of use of a Cyclops, I was pleased enough to purchase another device for our other car.
Right from the start I wasn't happy with the Snooper S6, having to give another £100 for 2 years subscription to register the unit as soon as i got home was a bit much, the other alternative was to give my bank details for a direct debit which i don't like doing. so much for the 6 months free subscription!

Fitting the unit wasn't very easy either because of its size, and the fact that the ariel plugs into one side and the power into the other. I've heard that snooper have responded to this by stating that the s6 is the only unit to included a built in modem ...... I wonder why!

2 out of 3 cameras near me weren't on the database when I first updated the unit, 1 of the cameras had only just been fitted but the other had been there over 6 months! (this has been added recently).

As you can tell I wasn't impressed with the unit and I have replaced it with a Micro Road pilot which is great.

Andy
---
Review 3: My Thanks to D Wiltshire. July 2004
I have had the unit for about six months now and have found it to be reasonable but feel it could be better. On five occasions I have been let down, two with mobile lasers in the back of a mid sized police vans once near Salisbury and another near Newbury. The unit failed to detect anything from these vans, on three occasions it failed to warn me of three separate Truvelo sites.

I am seriously looking at purchasing the Target unit now to protect my lively hood.
---