Above: The Talex unit

The Talex is a GPS enabled Speed Camera warning system from Embedded Technology and works straight out of the box.
The Talex comes with a database pre-loaded into the unit and is ready to use immediately.
Powered by 12v or 24v and is simple to use.
In the box you get the Talex unit, USB Download Cable with Software CD ROM, Car Power Lead, Small Rubberised Magnetic Mount and Informative User Guide. The unit is dashboard mounted and I am told an optional windscreen mount is available if needed.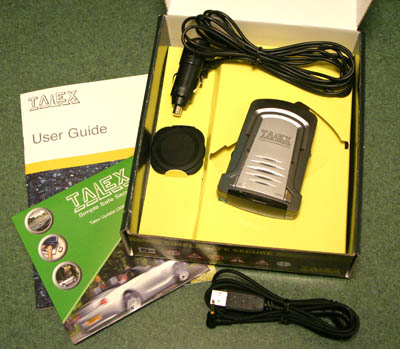 Above: The box contents.
The magnetic mount performs well. The LED screen is easy to read in most conditions.
The talex has the following features
Warnings of Fixed, Possible mobile and Red Light Camera's
Speed Sensitive
Direction Sensitive
Road Specific Activation
Accurate Speed Reading
Time When Stationary
User Position Logging
Accident Black Spot Positions
School Positions
Congestion Charging Zone Alert
SOS Positioning
Compass Bearing
Maximum Journey Speed
Average Journey Speed
Trip Meter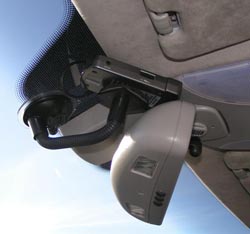 Above: Talex on Windscreen mount. This example shows the Talex
in a position to clear a UV windscreen coating.
The unit has a fixed warning range of 500 yards, which is more than enough warning. There are two warning modes, Normal and Cam mode. This could be a little confusing if you don't read the user guide. Normal mode is where you get all warnings, i.e. cameras and safety warnings, such as schools. Cam mode will only warn you about speed cameras and not include any safety warnings. I found Cam mode to be better as the unit made less noise, I was not so worried about the safety warnings.
The warnings come in the form of a speech warning and they are very clear. Some information is shown on the display at the time as well, this is the speed limit. The warning message for example is, "Warning speed camera ahead limit ..... miles per hour"the main let down is the lack of information the display can give. It has only 4 digits, so it can't give much information, but the speech more than makes up for this.
The Talex unit can store 150,000 positions in its database so its not going to be out of date too soon. The database works well.
The unit is updated by a USB cable . You get 6 months updating included, pretty standard across the industry now, and the cost there after is £29 per year or 3 years for £59. This is one of the lowest subscription costs in the industry at the moment.
Once the software is loaded its a simple click of a mouse button and then just follow the instructions, its all quite simple.
The Talex covers all fixed safety cameras, Accident Blackspot's, Schools, Congestion Charging cameras and laser van locations.
Capabilities of detector

Features of the detector

Warning of fixed speed camera monitoring systems.
Warning of red light camera monitoring systems.
Warning of possible mobile monitoring sites.
Optional warning of accident black spots.
Optional warning of schools.
Optional warning of congestion charging zones.

Small compact design, only 103mm (l) x 67mm (w) x 23mm (h).
Clearly announces the legal speed limit when approaching fixed camera sites.
Provides typically a 500 yard warning.
Easy Plug and Play dashboard mounting system with simple clean and easy magnetic mount system.
Bright LED text display allowing night and day operation.
Lightweight compact design.
2 year manufacturers warranty.
Can we recommend it, Yes.
It has a limited and simple LED display but has one of the clearest voice alerts available.
Being a good budget priced unit, the Talex is a great first unit for anyone that wants to get a GPS based warning system.
It does the job you would expect and performs well. It is simple and easy to use.
One for your shopping list.
What do we like.
What don't we like.

It's performance
Clear easy to understand voice alert
Software upgradeable
Internet updating for new Speedtraps
Customer Support
2 year manufacturers warranty.

Review march 2005, updated October 2007


Please note. The Talex is a software driven system. This review was accurate at the time of publishing
it is well worth looking at the Talex site to see what has changed.