Priva-Plate
Number plate protectors have just gone electronic. Priva-Plate is the first to use LCD technology and its the only number plate protector to really work.
In the pack is one Priva-Plate, a power transformer box with fitted power and control cables. On one of the cables is a on/off switch with LED warning lamp and a cigarette lighter adapter the other cable has a connector to connect to the Priva-Plate.
The Priva-Plate that was sent to me was a pre-production model so it had a few rough edges, the makers tell me they have addressed most of the problems regarding the finish and are looking into new methods of mounting the Priva-Plate so it is suitable for more types of cars.
The mounting system works well but looks a little rough. However, those of you out there that like to trick fit equipment on your car are going to find it very simple to design your own way of mounting the Priva-Plate and with a little playing around you should be able to make it almost disappear in the number plate surround
In use it is very simple. This Priva-Plate works by a flick of a switch and it then completely obscures your number plate from all cameras and prying eyes.
The Priva-Plate to work it must be connected to a 12v power supply to go clear, no power will make it stay obscured.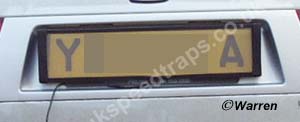 Above: Now you see it


Above: Now you don't
It works a treat and no matter how hard I looked I could not read the number plate, they also do one for motorbikes. At £149.99 its not cheap,
Can I recommend it, Yes.

It works well.
On some cars however this device sticks out like a sore
thumb so think about how it will look before you buy
or ask Priva-plate about mounting ideas"
A trick fit may solve the problem.
The Company that makes this plate is no longer trading.
Review done February 2002