LASERTECH 2002+
" LASERTECH 2002+ " made by 'FAJO' in Sweden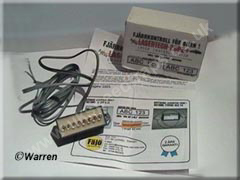 Above: What's in the pack?
a very sad looking jammer and instructions in Swedish, yep that's it.

This product was tragic, at over £200, made of plastic, the LED's are not even protected from stones. There is no warning system, the wiring is to short, no fuse or on/off switch. (Glad we never paid for it) it's a rip off, and under the same test, it failed every time. That all I am prepared to say about it. It not even worth your time waiting for the images to load, so I have put none on of the test.
Don't waste your money. Its crap.