Speedflip Number Plate Mount
The Speedflip Number Plate Mount is another of those gadgets that could have come straight off the James Bond Film Set. This simple design of a electronic flip down number plate mount is made out of aluminium and therefore quite light. It has quite a good profile as well being only 25mm deep so it sits in existing number plate areas very well and is designed for cars or bikes.
The unit I was sent looks a little rough round the edges. The aluminium unit is not finished off very well and the wiring is made up of speaker cable with big flip switches. These switches may be okay for a car but not so good for a bike where space is far more limited. You get stacks of cable with fitted crimps to allow the wires to be run round the vehicle with ease.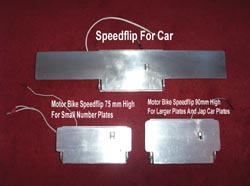 The kits consists of the main unit, three main wires, one for power, one for flip on/off and a status LED. Two short wires to connect the main unit to the battery box, yes there is a 140mm x 80mm x 45mm control box that houses 8 x AA batteries and the control circuit. Easy to hide in the boot of a car. The motorbike box is smaller at 90mm x 100mm x 50 mm. It also comes with different switches for a motorbike.
The unit runs on 8 AA batteries and can not be wired to the vehicle as the servo in use is only 6 volts. You could come up with a 12v to 6v supply if you don't want to use batteries but be careful check with the makers first for a spec. The servo used will work from 4.8 - 6v. Batteries are supposed to last for three months or thereabouts. Expect the first set not to last very long as you will spend most of the time giving mates a demo, who will then go away wanting one…..!
Its takes around half an hour to an hour to fit depending on the car or bike and there is no rocket science involved so almost anyone with some basic skills can fit it. Your number plate can either be fitted using screws (you will need to drill your own holes or by using double sided tape.
The unit works very well and will perform a flip down in less than half a second and returns back just as quick. The LED confirms the status of the units position.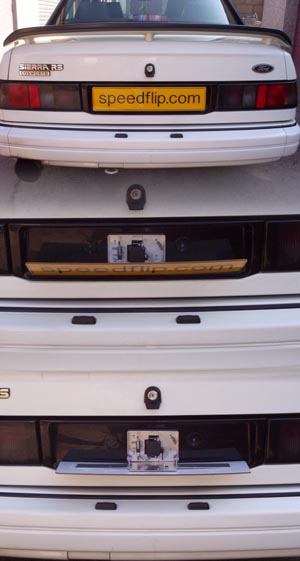 Above: Flip up and flip down
Some of the things I like to see is the unit painted black to blend in a bit better, the three separate wires combining into one multi core cable for cosmetics, but then I am just being a bit picky. Lets face it when its fitted you wont see it until its in the down position anyway. Some double sided weatherproof fitting tape for the number plate could be included in the kit though. (Since making these comments the makers are looking at a signal wire system)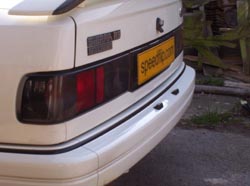 Can I recommend it,
Yes, this is a great gadget for those times you feel like being james bond!!
Review done April 2002