Snooper S4 GPS Warning System. Readers Reviews.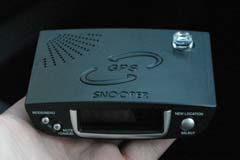 Above: S4 unit
---
Review 1: My Thanks to M Rogers. March 2004
Hi,
Just thought i'd drop you my thoughts on the new Snooper S4 I purchased 2 weeks ago.

I've had a radar detector (the Bel 980) a while back and updated to a Road Angel about a year or so ago. I couldn't fault the Road Angel and have passed it over to my wife's car. The problems with the Road Angel were really only the size and difficulty to position it in the car.

I decided to go for a Snooper S4 after reading a number of positive reviews and wanting a detector that would use GPS for no false alarms and also the advantages of having a laser detector and the optional add-on for radar too (by buying the add on detector for around £149.99).

I downloaded the software from the registration pages and set up the Snooper in my car using the same connections as my Road Angel used. The unit did take around 40 minutes before finding the correct number of satellites and started to display my speed. When the system detects a trap the voice activation is very good and one extra that didn't come with the Road Angel is the speed limit of the road shows up.. it then counts down the the trap and works very well.

I 'd give this unit a 5/5 at the moment, I can't fault it...

Thanks

M. Rogers.
---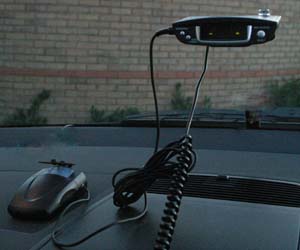 Above: S4 units and Radar Head
Review 2: My Thanks to A Gookin. June 2004
I would like to pass on my findings after using the Snooper S4 GPS since mid March.
The set up and use was very simple and easy once product registration had been carried out. Further updates then took a number of minutes every fortnight to keep the unit up-to date and never proved a problem. The speed displayed seemed very accurate and differed by only -1mph from the speed on the dashboard, my previous Road Angel differed by -2mph. Reading 68mph at a speedometer reading of 70mph.
One thing that struck me immediately was the broad area the snooper was detecting from, for example; if I was driving into my local town I would receive warnings of Gatso's that were on a completely different road and no threat whatsoever. A feature the Road Angel (Classic) never had a problem with. The S4 gives the option of City, Motorway or All but even set at City it would still pick up a Gatso 300 meters away on a road that was 45' to my right and on a different road.
I also found that the voice alerts were inconsistent and sometimes if the S4 was set at 600 meters and you turned into a road 500 meters from a Camera the voice warning was overridden and the soft or hard tone warning would only kick in at around 300 meters. Almost as if the unit needed about 10 seconds to decide what direction I was travelling. This again a problem never encountered with the Road Angel.
The S4 will also not allow the input of different cameras unlike the Road Angel which allows you to choose between fixed, mobile or average when new
sites are spotted. The S4 will only allow co-ordinates and then you must upload these at the next upload/download sequence. Once uploaded the sites can be deleted - or so you think. 4 weeks and 2 downloads later, the camera on the A40 towards Oxford still went by undetected by the S4. A camera that has been in situ for nearly 5 years or more.
After driving almost 1000 miles a week since March and having a new replacement S4 two weeks ago I have now sent the S4 back to be replaced by a new Road Angel. I never experienced a problem with the Road Angel Classic and even used it for navigation using a lap-top and Autoroute software - a feature I believe is still unmatched by other GPS detectors.
To sum up the Snooper S4. If I could buy shares in Blackspot Interactive and Road Angel I would. I personally don't think that the Snooper is quite up to the job, it's a good attempt at a GPS all singing and dancing detector but for me there is only one thing I would trust to Guard my licence and that's a Road Angel.
A. Gookin

---
I purchased the Snooper S4R neo on the advice of the supplier who stated it was suitable to be fitted to a motorcycle and that a separate motorcycle fitting kit could be purchased from Snooper if needed. This sounded good to me and I ordered the device on the information I was given.
When the device arrived I was a little shocked at the size of it and Snoopers instructions to store the unit in a tank bag when in use! They also stated it must have a clear view of the sky to enable it to locate 3 satellites! A contradiction to me as if it is enclosed in a tank bag how can it have a view of the sky. Never mind I thought I never carry a tank bag as I have a Yamaha R1 sports bike, not a Honda Goldwing, I'll find somewhere else to locate the S4R neo's head.
Fitting was not easy due to the size of the Snoopers display head and remote radar/laser detector. Much time was spent bending and making brackets and many double sided sticky pads were used. But I did manage to fit the item, although the display head blocked out most of view of my clocks!
On the road the Snooper S4R neo was a pain I was unable to hear the warnings unless I was doing less than 40mph, although the led display could be seen on a dull day when the sun came out this too was unreadable!
The warnings the S4R neo gave were a little odd informing me of Gatsos when they were on the road running parallel to, but a distance away, from the road I was on! Radar false alarms were a total pain and led to me disabling the radar detector as I was fed up of knowing where every petrol station was! Out of town things were better although I found trying to view the warning display was leading to me taking my eye off the road longer than I liked, this was not helped when the sun was shining. Though all its faults I made a decision to persevere and ordered Snoopers motorcycle fitting kit for £19.95. When it arrived I could not believe what they had sent me, an ear piece that could be purchased from Maplins for £3.99, it was useless and constantly hissed into my ear!
In reality the Snooper S4R neo is not suitable for a sports motorcycle, a large tourer maybe? But certainly not a Yamaha R1.
To conclude I exchanged the S4R neo at my loss for a Snooper SLD 920X Laser Diffuser this was even more difficult to fit to my R1 than the S4R neo but it is easier to use as I can keep my eyes on the road!
Can I recommend the Snooper S4R neo for a sports motorcycle? No, but it may be okay on a Honda Goldwing!
Mark
---
Dear Steve,

I would concur with the comments made by other disappointed purchasers. I am fed up with "near misses" either because I get no warning of a camera that has clearly been in situ for ages, or because the warning arrives just after I have passed the camera. The laser detector doesn't work - I know because I had it alongside a Bel 990 one day when I passed a mobile speed trap: the Bel went off, but the Snooper stayed silent. And now I cannot even get a download when I want one. It is about as much use as the proverbial lead balloon. Spend your money on something that works.

I am going to send mine back with a request for a refund - I'll let you know what the result is.

Best wishes,

John