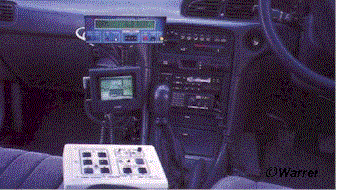 The VASCAR V PLUS is a new concept based on the existing system of VASCAR. This system consists of a newly redesigned VASCAR, which is more compact, is easier to operate and has a larger display. The system includes a Video Processor which allows input of data onto the screen. A small CCD camera with powerful characteristics is central to the system. Using a special bracket the camera is mounted directly onto the windshield next to or below the rear-view mirror. An in-car microphone is also supplied.
A Videocassette Recorder is mounted inside the vehicle. A LCD monitor is mounted in front of the operator, which is used for reference and to replay, recorded offences to the offender. A Central Remote Control is utilised which operates the whole system. The CRC has controls for the VCR, Camera zoom, backlight, horizontal/vertical stabilisers and toggle switches for the VASCAR itself. A keypad is supplied which allows the operator to input data, which consists of time, date and operator/area codes. Once these codes have been entered they are stored in memory and only need to be changed when the operator/area codes are changed. An optional cordless microphone may also be supplied. A full editing suite and printer may also be supplied.
When using the system at night, no flash or continuous light is required. Court evidence is made easy with the capability of frame by frame playback. At anytime, an offence may be played back on the spot; to be viewed by the offender and operator. Uses are not limited in just doing speed offences; as the utilisation of video now allows them to apprehend all moving offences, no matter what they are.