GEODESY GPS SpeedTrap Location System - Geodesy Plus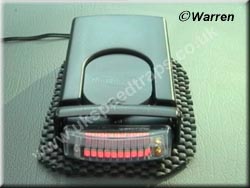 Above: Geodesy Unit in full alarm
You are going to think its the same unit, well it is.... This review is about the updated software for the Geodesy now called the Geodesy + (Plus). So rather than do the whole new page I am just covering the updated part of the unit, if you want to see a full spec on the unit then you can read up on the old unit here
Morpheous have done some changes in the way the software operates, updated the modem case and made the lights brighter.
The software changes that a user would notice are....
Speed sensitivity' overrides warning tones when speed limits are observed
Auto ranging' offers shorter advance warnings at lower speeds
Awareness Beep' signals start of collision hotspot areas marked by cameras More memory space to store an extra 10,000 speed camera locations
How they work.
Speed Sensitivity function, which mutes the audible alarm if the vehicle is not exceeding the speed limit when approaching a fixed speed camera location. The warning lights still illuminate as normal. An approach above the speed limit will trigger the full audio and visual alarm.
In use the unit is less manic, the Speed Sensitivity setting makes life much better in heavy traffic when you are not speeding but passing Gatso Cameras. The unit lights up but keeps its cool, the lights just build up and don't flash and you get no sound at all, overall much less annoying in heavy traffic.
Auto Ranging, which automatically adjusts the range at which the first warning is given. The default setting is one mile for roads which have speed limits of 60 mph and 70 mph, but on 40 to 50 mph speed limit roads that is reduced to 0.7 mile and on roads with a limit of 30 mph or less, the warning range is reduced to 0.5 mile.
This is a vast improvement, I had my old unit set for 6 tenths of a mile, sometimes that was not enough on motorways, but far too much on a 30mph road, this helps keeps the warning range appropriate to the speed and works very well.
Awareness Beep, where the GEODESY PLUS emits a single beep when the first warning light illuminates to signal the start of a collision hotspot area marked by a speed camera. Now this is a very good move.
I always hated the fact that it made no noise until it was half way up the scale, the warning beep works well to get your attention sooner.
More memory, space to store an extra 10,000 speed camera locations, always helps in this mad country where we will soon see a speed camera on every corner.
The improvements are worth while, but I don't think its worth the £50 upgrade, I would have liked to seen it at around £30
A standard GEODESY device now costs £350 and GEODESY PLUS costs £399 - including VAT, free next-day delivery and a 12 months warranty.
Owners of existing GEODESY units will be pleased to here they can upgrade their units to GEODESY PLUS specification for £50 by simply calling Morpheous Limited and using their desktop modem to download the new features. A word of warning though, the older units will have to go back to Morpheous and they have to upgrade your firmware as well. The firmware has had some major changes, making the unit faster, sorting out the problem of the short full alarm when the unit moves from one section of the database to another. Other tweaks have been done as well the lights seem brighter, and the case plastics have been improved.
Its never going to win awards for design but it still performs very well and overall I say go for it, its much less manic and much quieter in heavy traffic.
Can we recommend it, YES, we can.
The extra tweaks are worth it, but the £50 cost for the upgrade I think is a little steep.