Blackspot Interactive Ltd. Road Angel GPS Warning System.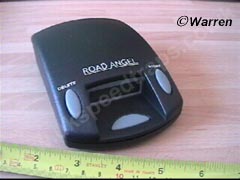 Above: Road Angel
REVIEW UPDATED May 2004
The Road Angel is now shipped with a USB and Serial port for updating. It also now has Auto-Mute, basically below 15mph the unit will kill the sound if this feature is turned on. The other good news is the price.. the Road Angel can be had for £349 and if you look around a bit less than that.
Its still a very good unit, simple to use, reliable and easy to fit.
REVIEW UPDATED April 2003
to include the new
Plug and Play Laser Alert Module
The new Updated Road Angel is a GPS based Speedtrap location system and the makers have gone beyond it just being a speedtrap warning system. Blackspot Interactive have extensively researched the UK roads using information that's available from the various government departments and have added a full database on all the high risk Accident Blackspots on the UK roads. This makes the Road Angel a must have for the safety conscious driver. Not only are you going to be warned about all fixed speedtraps in plenty of time you are going to get a warning that you are approaching a high risk accident Blackspot area and no other GPS system yet offers this. The new updated Road Angel also has a new 360° Laser Alert head, a first for any GPS product.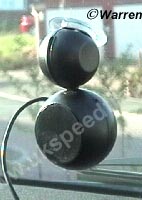 Above: Laser Alert Module
In the kit the Road Angel comes complete with... 360° Laser Alert, 12v cigar lighter with straight wire, 12v cigar lighter with coiled wire, PC interface lead, 12 power supply (for PC interface), User manual and Read Me First Card. Dual Lock and Non Slip Dash-mat. Windscreen mount. All for the bargain price of £399.00 inc. VAT and next day delivery. Windows Software for database updates arrives after you register the units with the warranty card, the unit arrives however fully loaded with the latest database.
The Road Angel is equally at home on a bike with its Bike Screen Fitting Kit (Fitting bracket, weather proof cover and hard wire kit £19.95 inc. VAT) or as it is on the dash of a car. Moving it from car to bike and back is easy.
The Road Angel is a solid unit well built and looks great. My first thought was the screen, it looks a little small and could be hard to read, how wrong I was. Power the unit up by just plugging it in and the crisp and very clear screen illuminates in green showing you its getting a fix a few moments later its shows your speed, the speed reading is accurate.
The 360° Laser Alert module is a simple bit of kit that simply plugs into the back of the Road Angel, this will give you a laser warning via the Road Angel screen that a laser signal is about. You can add more modules if you want. Each laser module has a linking socket on it so if your are in a van for instance and have a bulkhead you can have one laser alert module on the front windscreen and one in the back screen.

Above: Road Angel and Laser Alert
I must point out, I never read instructions in any way to start with, the Road Angel is a doddle to use and even a technophobe would not have a problem with the Road Angel.
The Road Angel has been pre-set with the best set up of default settings and if you wanted you would never need to play with the additional settings, its a true plug and go unit.
If however you want to have a play then you have a few options to play with.
SPD = Speed display between MPH or Km/h
VOL = Volume, from total mute, One beep per bar to Full volume
DST = Warning range (Distance) can be adjusted from 250 metres to 1000 metres
SDS = Speed Distance Sensing, when on, it increases the advanced warning range (distance) according to your speed. 2km max.
SAT = The amount of satellites you are locked onto, as little as three will do.
GPS = GPS output on or off. I tell you more about this later.
MUTE = Mute an alert, you do this by pressing the menu button.
On the top of the unit is three buttons, Delete, Store and Menu. Menu scrolls you through the settings and acts as a mute button. Delete changes the settings and also removes warnings you don't want or speedtraps that have gone. Store stores the settings and new speedtraps or warnings.
On the back of the unit are 4 connections, 12v dc in for Power, Auxiliary Port for the 360° Laser Alert Module, Computer Serial Port for updates and connecting a laptop to for navigation and an Ear Piece connector for bikers.
The Auxiliary Port can also be used as a Trigger circuit for a laser jammer, contact Blackspot for more info. If you have a Blinder or Snooper SLD 920 you could connect this to that Aux. port and when the Jammer fires the Road Angel warns you, a good way to have an alarm on a jammer. When the trigger is set i.e. Jammer fires what happens is the MOBILE symbol comes up, the red screen mode kicks in and flashes like mad, and you get full bars and sounds depending on your sound setting.
The Road Angel has a computer serial port and is used for updates via the Internet, (or through an optional Modem, £20 from Blackspot if you have no Internet Connection) and also connecting to a laptop to use for navigation. For navigation you need something like Autoroute or Tom Tom Maps and a Notebook and then the Road Angel will give the computer a NIME signal that the software uses to track you. You also use the supplied cable to connect the two together. Navigation and Warning system in one, life is looking up...

Above: Standby Mode.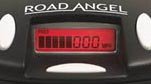 Above: Fixed Camera Alarm Mode
In use the Road Angel is fantastic, simple to use and easy to understand. When you approach a stored location the display gives you an ADVANCED WARNING, the LCD display turns from green to red and the type of danger is highlighted. The bar counter starts to count up as the danger area gets closer. An audible alert tone is emitted, the frequency increasing with proximity. Once the location is passed the unit returns to standby. Road Angel can store up to 50,000 unique locations and uses complex heading software so it only alarms in the direction the camera faces, reducing false alerts.
The advanced warnings are identified by type:
FIXED: For permanently sited Gatso and Truvelo cameras.
MOBILE: For temporary mobile cameras (often motorway roadwork's) Speedmaster DS2 and also user known laser sites.
AVERAGE: For SPECS average speed detection cameras.
BLACKSPOT: Police and Local Authority designated repeat accident areas.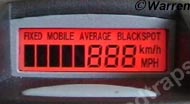 Above: Screen in test mode
The Laser Alert module must be mounted in the centre of the windscreen and low down trying to allow it to have forward and rearward view, should this not be possible you can purchase an extra Laser Alert Module. Existing owners of Road Angles will be pleased to know you can purchase a Laser Alert to add to your existing Road Angel.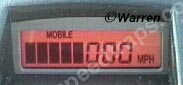 Above: Laser Alert Screen
Laser alerts appear in the display as MOBILE, rapid beeps and screen flashes accompany the display message. Its a tuned module so devices such as ANPR and Trafficmaster do not give false alerts. Range is awesome, and it detects the slightest of laser scatter.
The Road Angel and Laser Alert module are both very portable, allowing easy moment between your cars.
Other new features include selective volume for cameras and blackspots. This feature allows you to turn off or adjust the sound on the accident blackspot database or camera database independently. Rescue loc gives you your latitude and longitude should you need to know in an emergency.
One great feature of the database is that the information you add or delete is never lost, even when you do an update it stays with your unit.
Updating is done via the Internet and is very fast, you get very easy to use software to do the updating with. Should you not have an Internet connection there is an option to buy a modem to do updates but its slower.
The cost of updates from Blackspot Interactive are, first year of updates is free of charge with an annual subscription thereafter of £49.
Should you wish to stealth install the unit it is easy to us a Re-Radiating GPS Antenna Blackspot Interactive can supply this you as well at extra cost.
Can we recommend it, Yes.
With the addition of the new 360° Laser Alert module the
Road Angel just gets better, is quite simply the
"Best in its Class"
For Combined GPS and Laser Warnings,
this is the unit to have
The Road Angel continues to retain its
UK SpeedTrap Guide recommended product award.

March 2003
What do we like.
What don't we like.

It's performance
Lifetime Subscription for £99
The very flexible database
Accident Blackspot Warning (Industry First)
Selectable Mute Function
Rescue Loc
Zero false alarms
Very Clear easy to read display
Good Volume
Laser Alert Module (Industry First)
Build Quality and Feel
GPS output (Industry First)
Auxiliary port (Industry First)
Ear Piece (Industry First)
Warning Delete Button (Industry First)
Concise Instructions
Software upgradeable
Updating for new Speedtraps via Internet is very fast (modem Option if needed)
Excellent Customer Support.
Price


Does not support Mac Computers so you will have to use the modem option £20 from Blackspot
Not that we don't like it, but you need to be aware that the updates are done with an internet connection. Should you not have an internet connection you will need to buy the option of the modem £20 from Blackspot Interactive and then the Road Angels built in software will do the updates.