Hand Held Radar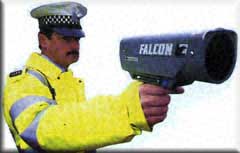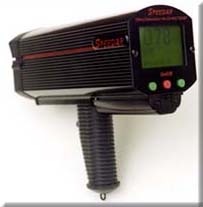 Above Left:
Kustom Falcon. Above Right: Speedar


Hand held radar is typically used by the roadside by one officer, he will take the reading and then pull you over. Incidentally it is common practice for the operator to hide from view of the opposite direction traffic so that they don't flash the ones he wants to measure as they come towards him.
I was told that over 300 units have been sold to the police in the last 2 years. In many instances radar is both easier to use and more effective. To say nothing of about 1/3 the price.
The range of these units, 500M is typical more on trucks less on streamlined sports cars. All Radar systems are virtually instantaneous in reading, some only take a reading every second but that is instant. There are Three radars approved for police use in UK; They are Speedar, Kustom Falcon, (See picture).
Motorcycles are not detectable so far away as cars because they are smaller targets.
Operating Hand-Held Radar
Radar speedmeter's are designed to measure the speed of one vehicle at a time. Should there be more than one vehicle present in the radar field of view, it is possible for the device to detect two different signals, and alternately display different speeds in which case the check must be aborted.
With more than one vehicle (especially when they are of a similar size) within the range of the radar, the meter may read the nearer vehicle, but not necessarily, since the reflected signal from a vehicle is very complex and fluctuates rapidly as the view of the vehicle changes slightly.
An operator must not make detections for prosecution when more than one vehicle is within the radar detection range. It is quite possible for the signal from a large vehicle some distance
---
AUTOPATROL PR-100


AUTOPATROL PR-100 is the most advanced speed camera system available, coupling sophisticated radar technology with the latest in high-speed photo-imaging. The unit is a compact, portable, mobile camera radar device, which is easily mounted in a vehicle or on a tripod
Using a proprietary lensed radar antenna to emit an ultra narrow low power beam precisely focused to eliminate stray readings and reflected signals. Using the higher frequency Ka band (34.6 GHZ) it provides more measurements for exact speed calculation and precise vehicle positioning
PR-100 is equipped with the exclusive TC-1000 TrafficCam for superior image resolution. The unit's digital camera control system and narrow radar beam enable the use of a telephoto lens to guarantee clear images and vehicle isolation, even across multiple lanes. Cameras are designed to allow for the positive identification of the driver of the vehicle.
The unit mounts quickly and easily in a vehicle or on a tripod. It also may be customised for unattended operation on a pole system, bridge, or overpass.
In short, here's how it works: The PR-100 utilises an ultra narrow, fan-shaped Ka-Band radar beam projected across the road to monitor vehicles. The radar can be set to capture images of vehicles in 1-mph increments. If there is more than 1 vehicle in the radar beam, no image is captured. Speeds are rounded down to the nearest mile per hour. The benefit always goes to the driver.