Fixed Installation Post Gatso Twin Head "TH2"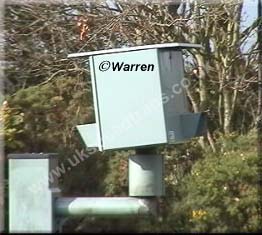 Above: Gatso TH2 FIP, note the angle of the head, the face pointing down
is the face the camera is working on. Rotating the whole head
round will allow for operation in the other direction.
The same grey box as above known as the FIP 'TH2' has a front and back face unit.
Windows and Radar in the front and back give the impression that it can be used in the middle of a duel carriageway to monitor both directions at the same time. However this is not the case.
Devon County Council decided to get their Gatso cameras, on the A338 in Bournemouth, made with a false faceon the unit.
I was contacted by an officer who confirmed that Dorset CC and the Police decided to try to confuse the motorist into thinking it was not safe to speed in either direction. "The cost for the modification is next to nothing and in effect you get two Gatso's " he said.
Some web sites have reported that these units can have two cameras in them, it is impossible to do this due to space.
You can tell which direction they are looking since the head needs to be angled down towards the road. All they do to change the direction of speed detection is revolve the whole head round not move the camera. The road has markings on in both directions.
The unit works the same way as the normal Gatso.