BlackVue DR300G In-vehicle Witness Camera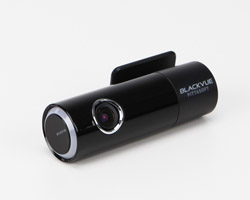 The BlackVue DR300G is the latest and one of the best in-vehicle video, audio, GPS and G force black box recorders for its price.
Use it to produce evidence if needed in an event of a crash, who was to blame, road rage, record daily driving, off road track days and road rallies and also watch over your car in the event of vandals.
Companies can also benefit with reduced fuel consumption, less incidents and lower cost repairs, because it's like having a manager sat in the passenger seat watching over your drivers behaviour. You can speed up insurance claims.
The BlackVue DR300G is simply stuck to the windscreen near the rear view mirror and faced forward to record the view ahead, one can also be placed in the rear window to record behind the vehicle (often customers will buy one GPS unit and one Non GPS and the use the GPS on the front and non GPS on the back, for both front and back video capture).
The BlackVue DR300G comes with software that will allows you to playback the video and audio, Google location and the recorded G-force. You can also save the video to a AVI file for playback on other computers, or create a simple report.
The BlackVueDR300G camera has a video out, so you can attach them to a monitor to see the image from the camera, one example is to connect the rear camera to a small monitor and use it as a rear view/reversing camera.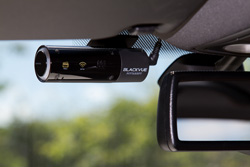 Fitting can be as simple as plugging it into a power socket or use our hardwire kit for the parking mode to benefit
BlackVue DR300G Software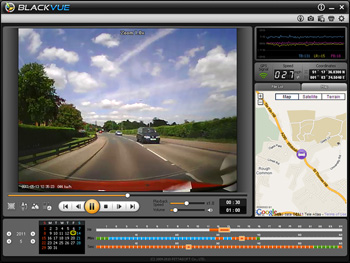 When you remove the SD Card and plug it into the computer you can then simply analyse how the accident was occurred with the Blackvue DR300G Road Eye software. This software will allow you to watch back on the event, collecting vital inforamtion about your speed and location. A built in Google Map will show you the journey on the road while on playback and will allow you to find your exact location.
Specifications
1⁄4" CMOS Sensor
360 rotational body in quick release bracket
High Quality H.264 Video 640x480 30fps and G.726 Audio at 32kbps
MicroSD card 4 GB Standard supports up to 16GB
Up to 32 hours recording on 16GB MicroSD card
Built in G-sensor
Internal GPS unit
Voice Guidance
4 Recording options, Normal, Manual, Event by G-sensor and Parking by Motion
Composite Video Out
DC 12v – 24v
Current Draw: Max 120mA

Blackvue DR300G Software features
Video, Audio, GPS position, GPS Speed and G-sensor playback
Video Zoom, image invert and image correction
Search and Playback
Playback speed adjustable 0.1 – 2.0x
File saving – screen grab, export and print.
Video Conversion to AVI
Audio recording on/off
G-Sensor Trigger Level programmable (Parking and Drive Mode)
Motion Sensor Trigger Level programmable (Parking Mode)
Image Resolution VGA 640x480 or QVGA 320x240
Image Quality, High, Normal, Low
Frame Rate, 30, 25, 20, 15, 10 frames per second
Memory storage overwrite On/0ff
Alarm Volume
Record file units settable in minutes, 10, 5, 3, 2, 1
Event/Parking units settable in minutes, 3, 2, 1
Time Zone Setting
Blackvue DR300G Box Contents
BlackVue DR300G drive recorder
Inbuilt GPS Receiver
Quick release windscreen mount
12/24v power connector on extended lead
English instruction manual
AV cable
4Gb micro SD card with adaptor and software
MicroSD to USB key ring Adaptor
Cable tidy kit