Cameras under test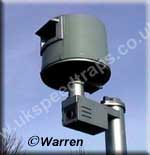 On my travels I came across this one. Sited in Usk outside a school it looks like the school has built it themselves, however its dimensions allow for a LTI 20-20 laser gun and camera to be fitted inside.
It has a round head housing the Digital Camera, and a small box below that houses a LADAR unit. The interesting bit about this one is that it has an inductive loop in the road as well. This uses no Film just a High Resolution Video Camera & it does not even need a flash, this is similar to the unit Thames Valley tested a few years ago.
It never seems to be working.