Drive Smart GPS Warning System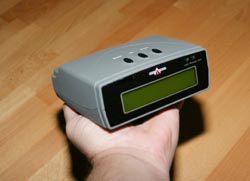 Above: The DriveSmart unit
The DriveSmart is one of the latest GPS warning system offerings in the market, designed in conjunction with F1 technicians they say and using GPS hardware that is common to military equipment. They say that this cutting edge technology places DriveSmart ahead of its competitors, when it comes to reliability, functionality and robustness.
Now I am not one for taking the mickey out of a product but the DriveSmart is asking for it. Designed by F1 technicians they say. Well they have no idea on design as it would look more at home in a military tank, in fact it may have come out of a military tank for all I know. They do after all say that they use GPS hardware that is common to military equipment!
When you look at the DriveSmart site there is no real sense of the size of the unit. Its BIG and not that good looking either. It is built in a box that resembles a clock radio.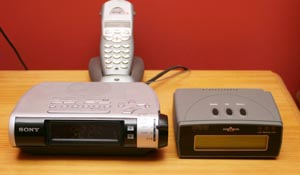 Above: The DriveSmart is on the right...
On the face is a green LCD display giving you the text information such as camera type, speed, compass etc. A few status LED's and the laser detecting diodes. The back of the unit has a power connector, antenna connector, serial port, external laser detector port, headphone socket and the forward facing laser detecting diodes. On the top are three buttons to control the unit. Mode, Up and Down buttons to scroll through the menu and change settings.
The DriveSmart is easy to use and the software is quick and easy to use. The software allows you to customise the sounds you hear. You can create your own as long as they are in WAV format. The unit is software upgradeable as well, so they can add new features when needed.
Latest (June 2005) is a new tracking feature, it logs your position, time, speed and date so you can import the data in to Autoroute if you wish.
It now shows your speed on the display.
Adaptive driving feature, the adaptive driving mode adjusts the warning distance in relation to the speed of travel 30mph will start warning at 400m for example.
Compass and hazard type are now shown on the screen.
They also offer upgrades & databases on disk if preferred.
On a more positive side they have provided an industry first, FREE DATABASE updates for LIFE.
In use the DriveSmart does the job. Warnings are okay, but the speech/beep volume is not that good if you have a noisy vehicle. Screen is readable in full sun. Voice announcements for speed limits and camera types.
The Laser detector works well but see my notes on laser detectors. (Laser FAQ. Here for more info on laser detectors and how they work)
Key Features are.
Plug & Play installation into any vehicle.
Detects accident blackspot's, all types of speed cameras fixed and mobile including Truvelo,Gatso,Watchman,Specs etc all laser fixed and mobile including safety vans & schools
Large LCD screen for easy visibility
Gives warning distances to locations
Displays current speed, time and direction
Database of European locations including Ireland, Germany, France, Spain, Holland, Italy, Norway & Belgium included with every unit
Speech alerts and menu's in English, French and German
Ability to create bespoke audio alerts
GPS antenna compatible with all car windscreen types included in the box
Laser detector updates GPS database with local mobile Hot-Spots
Gives your current GPS location for break down or emergency services
120,000 memory locations
Long range laser detector covering both front and rear
2 year warranty and life time support
Can we recommend it, NO
We gave it a no but it does the job and has some good features.
It is one of the biggest units on the market and will look out of place on most
car dashboards. If you have a truck or a tank then it will fit right in.
From the feebback I have seen however I would not buy one.

What do we like.
What don't we like.

Clear easy to read display
Free updates for life
Voice Alert
Remote antenna
Custom voice alerts
Software upgradeable
2 year warranty

Looks. It's a real dinosaur.
No choice of mounts, it is on the dash only
Size
Did I say looks and size
The way DriveSmart insisted that I remove this review and tried to give me bad press.
Review June 2005