ANPR - Automatic Number Plate Recognition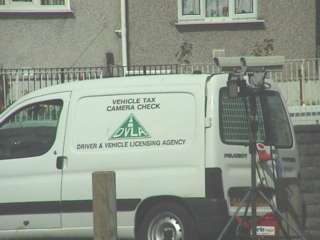 Automatic Number Plate Recognition (ANPR) is probably the next growth product to take off in the UK, (and the world)
Automatic Number Plate Recognition or ANPR is a technology that uses pattern recognition to 'read' vehicle number plates. In simple terms ANPR cameras 'photograph' the number plates of the vehicles that pass them. This 'photograph' is then fed in a computer system to find out details about the driver and owner of the vehicle and details about the vehicle itself.
How does ANPR work?
ANPR 'reads' Vehicle Registration Marks - more commonly known as number plates - from digital images, captured through cameras located either in a mobile unit, in-built in traffic vehicles or via Closed Circuit Television (CCTV).
The cameras can check up to 3,600 number plates an hour on cars travelling in excess of 100mph. There are a number of different systems available.
These can be categorised into four types:
In-car devices, seen that device on the roof of some police cars that looks like a spotlight on the back, it is an ANPR unit. Some can be seen behind the glass of the rear window as well. The can do checks as you overtake them.
Transportable (e.g. mobile units that can be set up at the roadside)
CCTV (that 'piggy-back' on existing systems)
Fixed gantry systems that continuously monitor a stretch of road (e.g. in ports, City of London)
The digital image is converted into data, which is processed through the ANPR system. This system is able to cross reference the data against a variety of databases including the Police National Computer (PNC), Local Force Intelligence Systems and other related databases, for example DVLA
Once the data has been cross checked against these databases - a process that takes around 1.5 seconds to complete - information about the vehicle, its registered owner and driver appears on a computer where it is evaluated by ANPR officers.
If the information supplied via the ANPR system alerts officers to an offence or relevant intelligence on a vehicle, the vehicle will be stopped to allow officers to investigate further. ANPR officers acting as 'interceptors' also use their observation to stop other offenders not highlighted by the system. ANPR systems are able to check up to 3,000 number plates per hour, per lane, even at speeds of up to 100mph.
The ANPR mobile unit should be easily distinguishable from the safety camera mobile units.
ANPR cameras are NOT safety cameras - i.e. they are not in place to catch speeding motorists.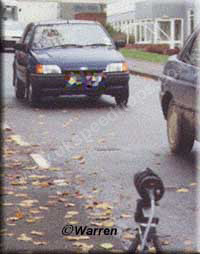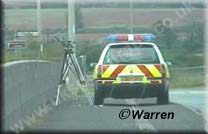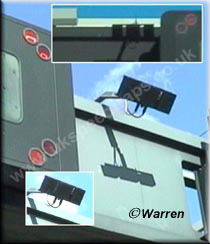 Left: Simple Roadside ANPR unit Middle: Twin ANPR system, in use on A38 Right: M25 units
The City of London Police are using Number Plate Recognition Systems on their check points, at the entry points to the city, one just off London Bridge, another near Liverpool Street railway station. These form a part of their anti-terrorist precautions as part of the so-called 'Ring Of Steel' At times of tension, the check points are sometimes manned. As you enter one point of the city you can see one such system mounted on a phone box, providing a live link via ISDN to the HQ.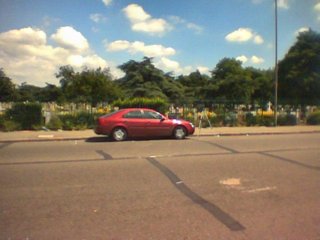 Some major routes have had systems fitted, and can be seen on overhead gantries
---
The white van...you may have seen the press, mainly in the Sun Newspaper. They reported a white van in use in Birmingham that was used to nick speeders using two cameras pointing out the back windows... as usual the Sun jumped the gun and got it wrong.. The van is used to read number plates and then see if the car is nicked or not known and so on. If the vehicle is flagged up then further down the road they will pull you over. Its not a speedtrap... yet.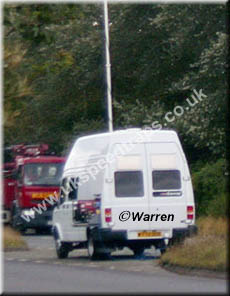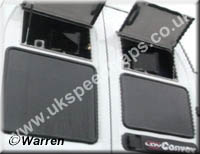 Above: The Van in question, top flaps open to reveal the cameras.
---
ANPR... extra notes, I found this while I was surfing.... Her Majesty's Inspector is concerned over the inherent risks associated with automatic number plate recognition systems (ANPR) which then feed off the PNC vehicle database. This adds police information to a copy of the DVLA database which is maintained primarily for vehicle registration and tracking excise duty (road tax).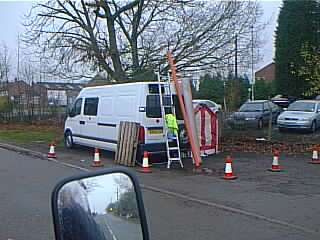 The DVLA are reliant upon keepers and police for the accuracy of data and their estimates are that up to one million records might contain errors. Additionally, records are up to six weeks out of date due to the time taken for owners to notify DVLA of changes. Similarly, the police information on the PNC database is not always updated when it should be and thus contains errors.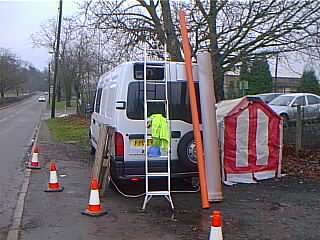 To use an historic and inaccurate database for increasing numbers of real-time functions runs the risk of unnecessary stops by police and, inevitably, wrongful arrest. Her Majesty's Inspector strongly urges those managing ANPR systems to ensure all staff using the data are fully aware of its limitations; as detailed in the recent ACPO Policy and Guidelines for ANPR systems.
---
Police use petrol station 'spies'
Drivers using petrol stations will have their number plates read and checked against the police database in a new scheme being launched.
West Yorkshire Police say it is the first time in Britain forecourts have been used to install Automatic Number Plate Recognition systems which have a direct link to the police computer.
A number of service stations in the Bradford area have been fitted with the ANPR technology.
The registration number of every vehicle will be read as it enters the forecourt and will then be compared with a comprehensive database of vehicles linked to criminal activity on the West Yorkshire Police computer systems.
If there is a match, police will be alerted immediately.
Chief Supt Geoff Dodd said: "The forecourt scheme is primarily a crime reduction tool designed to reduce forecourt crime and in particular drivers making off without payment.
"The knock-on effect is that it will also help in the detection of such crimes and be a valuable source of intelligence to the police.
Mr Dodd said all 53 service stations in the Bradford area have been invited to join the scheme.
Pc Mick Warburton, Bradford District Forecourt Crime Officer, said: "During trials that have been held the sites have been averaging six alerts a day from the police database. This means that potentially six drive-offs a day are being prevented.
"The results are very encouraging and all indications are that the system will lead to a vast reduction in crime."