Cheetah Remote Head Cordless Radar Detector.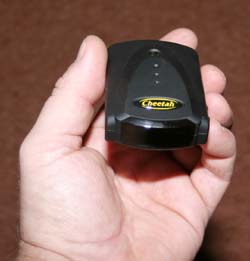 Above: Alert unit
The Cheetah Sentinel is the latest radar detector system to hit the market and addresses a few problems modern cars can throw at radar detectors. It is designed to work in EVERY type of car, van, truck and motorcycle, especially in cars that have Athermic, or heat reflective windscreens. Cars such as Renault, Peugeot, Citroen and Vauxhall often fit Athermic screens that have a metal layer in them that will block 98% of a radar signal rendering you radar detector totally useless if fitted inside your screen.
The Sentinel is a remote radar head system that communicates with the in-car warning unit via a state of the art wireless radio link. The weatherproof Sensor unit of the Cheetah Sentinel mounts externally, behind your radiator grille, and communicates wirelessly with the Alert unit inside your car. The in-car Alert unit gives both audible and visual warnings.
The means the Sentinel Alert unit can be placed out of sight in your glove box, under your steering column, or above your sun visor. YOU can decide the ideal and most discreet location for your own car as the alert unit is not position dependant in any way. This is a great stealth install device.
In the box.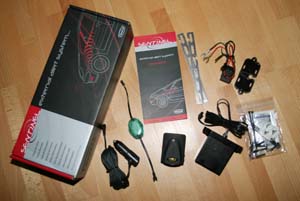 Above: The full kit
You get everything you need. 1 x Remote radar head, 1 x Alert unit, 1 x mini transmitter, wiring loom for remote head, power cable for alert unit, mounting brackets cable ties and bag of screw and fixings. Nothing else is needed. All the looms are pre fitted with connectors and they all just plug or clip together. Build quality looks good and solid. Instructions are simple, easy to understand and concise.
Fitting the system.
Fitting the alert head could not have been simpler, decide on a position for the alert unit, mine was hidden in a cubby hole and route the power cable to the cigarette lighter socket or hard wire it in. Then position the radar head, mine I decided to place under the bumper behind the grill, fitting took around 15 minutes and then the power cable is connected to the batter terminals. No wires need to go from the head to the inside of the car. Job done in less than 1/2 hour.
The Cheetah Sentinel is also designed for use on motorcycles - you can connect the alert unit to headphones or link it to your comm's system. You can even power the alert unit off a small rechargeable battery if you wish ask Cheetah for more information.
Specifications.
Bands detected K, Ku, Ka
Visual alert LED display
Audio alert Beeps, rotary volume
City Mode Yes
Selectable radar bands Yes
Warranty 1 year
Testing Times.
The system is easy to use and works very well and so far has had the best detection range of all the detectors tested. You do get the odd false alarm but you get that with any detector, some are just worse than others. Combine this unit with a GPS device and your away. Warning range as I said was very good and you were given plenty of notice, average time below. Band isolation works well.
Approaching back of Gatso. Range in feet (metres)
Cheetah Sentinel - 918ft (287m) = 10.4 second warning at 60mph
Please note: Detection range will vary depending on mounting position and type of car and wind screen. We suggest you try different positions in you vehicle to maximise range. If you are approaching the face of a gatso you can expect ranges of 3x what is shown above in most cases.
Speed v Distance covered.
30mph = 44ft/sec
40mph = 58ft/sec
50mph = 73ft/sec
60mph = 88ft/sec
70mph = 102ft/sec
Hand held radar.
On the test road we use, 2000ft straight, bend and then 1000ft straight, we had no problem in getting warnings from round the bend, nearly 3000ft away. On a long straight the unit could cope with even greater distances, well before the police would be able to lock on to you.
False Alarms.
False alarms are low and more than acceptable.
Can we recommend it, YES.
Important: Cheetah have removed the laser part of this system, no laser detector is effective enough to give a warning early enough to react they did not want to mislead customers.
This is a great unit for £299, discreet to fit, easy to use.
Detection range is great, you will not be disappointed.
What do we like.
What don't we like.

Put it in the right position in your car and it will never be found

Simple to use.

Easy to fit

Designed for use on bikes as well

Excellent radar warning range.

Volume is good

Price, £299 is a good price for this bit of kit.

Great range of extras to allow you to customise the kit

Still trying to find something!!!

Review done. November 2003
Email from Cheetah regarding the extras you can get so far.
Cheetah Sentinel:
The Sentinel has been designed from the outset as a radar and laser detector that is suitable for all vehicles. It can be used in cars with Athermic windscreens and also on Motorbikes. We included a standard 3.5mm earpiece socket to allow audible warnings directly from the unit on a motorbike. The earpiece can also connect the Sentinel to various other bits of kit.

Cheetah Sentinel car accessories:
1) Remote control power module: The standard automatic power module that comes with the Sentinel is a very smart piece of kit which switches on power to the remote head when the car is started, and switches off power when you take the key out of the ignition. This can be replaced with our optional, key fob operated remote control power unit, so a user can switch the Radar/Laser head on and off from inside the car - perfect for complete control of the unit (greatly in demand in France and Ireland!).

2) Extra radarheads: If you want extra rear protection, we can supply an extra radar head for the rear of your car. The same in-car warning module will work with both detectors. Perhaps you want an extra radar head for another car or bike - again, you only need one in-car warning unit.

Cheetah Sentinel Bike accessories:
1) Battery pack: NO LONGER MADE. The small battery pack powers the Sentinel warning unit. Both units fit in your pocket, you are not connected to the bike in any way. Just plug in your favourite earphones for wireless warnings on a bike. No cables linking rider to the bike.

2) Comms systems: Our Sentinel warning module plugs directly into a comms system, like the Intaride RP1 (http://www.intaride.com/) So you can use your existing comms system headphones to get radar/laser warnings.

3) SportVue MC2 heads up display: http://www.navtel.co.uk/product.php?xProd=126&xSec=191 This is a really cool helmet mounted display for bike riders that gives speed, rpm, gear and radar warnings. Our Sentinel unit plugs right into this system so you get Top Gun warnings on your bike, without taking your eyes off the road. Much more than just a radar detector, for only £450. Click on Watch the Demo for a truly American style product demo.

4) Wireless High Intensity LED unit for motorcycles: (Due soon). This will attach to the handlebars and communicate with the radar head, flashing when it picks up an alert. It could also be used inside a car if someone wanted highly visible warnings.