The Road Angel 7000 uses the same accessories as the Road Angel 6000, so there is not much point in covering the accessories again. The Road Angel is the same size as the 6000 only with some improvements in case fit and rubber seals to make it waterproof. You ask why it needs to be waterproof, well two main reasons, motorbike use and the OS mapping I cover later.
The unit can update its camera data via Bluetooth. I never managed to do a successful Bluetooth update, the phone choice is very limited. This unit will also work with a Mac OS system, if used with "Missing Sync" This will cost you extra money.
It will work on 12v or 24v and charge via the mains or USB. Battery life is around 6 hours. Voice is clear and easy to hear, in fact I have turned the volume down a bit. Screen is very bright and again mine is turned down a bit.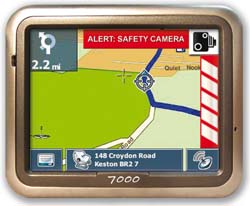 The Road Angel 7000 uses the latest mapping software as well and on most of our routes it did a very good job of getting us there just from using the postcode. It does however do some very odd things like take you off at a motorway junction and then straight back on again. I get this every time I go up the M6 by Jun 16 and on several other junctions. Routing can be strange at times so I suggest always check your route first.
Voice directions are good, screen detail is enough without getting confusing.
Camera warnings are still the best in the industry and yes you have to pay for the subscription after 6 months. But you do pay to get the best data on the market. You get a clear warning for a camera "WARNING - Fixed safety camera - speed limit 30 - then beeps......." Green background if you are under the speed limit, red if over.
As with all newer Road Angel products they now cover Safety Camera Van locations as well as the usual Fixed, Temporary and Average locations.

The Road Angel 7000 has a full screen warning option as well for those times you don't wish to use Navigation, still a first and a fantastic feature.
This is the point where the Road Angel 7000 leaves all others behind, but only at this point. The Road Angel 7000 can use Memory Map software. Road Angel and Memory Map teamed up to produce the software for the Road Angel 7000 to make it a truly fantastic unit like no other available on the market. Memory Map are the industry leaders in electronic OS, Marine and CAA mapping.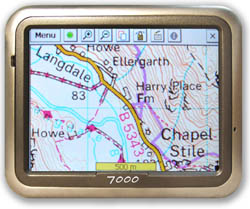 Road Angel 7000 in OS mode
You will see the Road Angel sold as the Adventure, it is the same unit as the 7000 only with OS maps included. You can buy a standard 7000 and upgrade it for free to use the 30 day trial or by paying "from" £50 you can add Memory Map maps to your existing Road Angel 7000.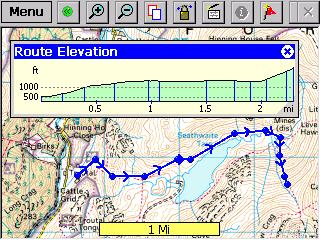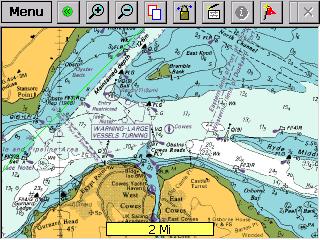 OS Maps and Marine Maps. Aviation maps also an option
We have been using the National Parks Package, £50 and this gets you all the UK's National parks in OS50 scale for walking and its is just fantastic. Drive to the location using Road Angel software, turn off the Road Angel software and turn on Memory Map and go for a walk and you get a plot of where you have been. You can plan routes, see elevation profiles it just does so much you will be amazed and we suggest you look at www.memory-map.co.uk to get a true idea on what is on offer. With a few simple tricks adjusting the on screen brightness and time I am managing 11 hours on battery alone.
I have been using it for walking since December 06 and in some really bad weather in Snowdonia, its been sat in snow, dropped, allowed to sit in heavy rain and as yet all I have managed is a small scratch on the screen and believe me its had a hard time. This is such a cool feature, it is the ultimate GPS for driving a recreation.
This is one of the best GPS devices on the market at the moment for what it can do, and if you are looking for a unit to use in the car, walking, cycling, boating, flying or anything outdoors for that, then for the money you won't get a better unit. Its best bought as a 7000 and then buy the upgrade maps for the OS side.
Can we recommend it, Yes.
The Road Angel 7000 is a good unit if you upgrade to OS mapping.
However if you want a GPS unit for navigation then you can do better,
the Road angel only has the advantage of its top quality camera database.
Road navigation is quirky but will get you there..