Stinger DSI
UPDATED 1st September 2009
We I have been using the Stinger DSI now for a good few months and my opinion has changed a little over time to how useful the Stinger System is.
I never got round to testing the Laser side fully as they kept bringing out updates and the system I had has not had any of the updated software as you can not add it yourself. I still feel that having a proven systems like Blinder is a better option at the moment.
The Stinger DSI in day to day use is okay and works well, they used the Novus GPS Database up until the middle of August but Novus now no longer supply them any GPS data and I understand Stinger are now looking for a new suppler of GPS Data. So updates are no longer available at this time.
The radar detection is now really getting on my nerves, cars such as the Jaguar XF, Mazda 6, Audi Q7 all have Active Cruse Control / Collision Avoidance and they all use the same frequency as Gatso. You can be sat on a motorway with permanent false alarms if you end up within 1/4 mile of one of these cars. The Mazda 6 is quite common as well and this is the one I get the biggest problems from. The radar detection is just a right pain in the backside because of ACC/CAS and its expected to get worse as new cars start to use ACC/CAS.
So can I still recommend the system, yes and no. If you want a fully integrated system and you have to have Radar, Laser and GPS then yes this is the way to go. This is however all down to Stinger getting their act together in the UK though. If however you cant be putting up with false alarms then avoid this system it, as with all radar detectors, will drive you nuts because of its ability to detect ACC/CAS .
Update
I was contacted by the UK distributor who informs me they have a solution for the false alarm problems. They say its a software update. If you have a Stinger your best bet is to contact Stinger or their UK distributor to get further information.
The Stinger DSI is by far the worlds most expensive speedtrap alert system, £1850 without fitting will get you the main kit. The laser jamming system is extra and will set you back approximately £1000 for each end of the car and approximately £600 for the side laser system, yes they do side laser jamming. I will talk about that later.
They are not afraid to say it is the "World most expensive" either. Stinger has been selling the DSI system in Holland, where it is made, and also Spain and Germany and it has been selling very well even with the high price tag, now it has arrived in the UK.
Why so expensive, well, this system does not use the standard radar detection technology, this system uses military technology.
The Spectrum Analyser is the real technology behind the Stinger DSI. This unique Stinger invention is based on a 'laboratory spectrum analyser' a very expensive device used by institutes that deal with professional and applied scientific research for precision measurements and analyses in the field of microwave signals. The Spectrum Analyser with its 'patch antenna', based on military technology, as I have said, applied in F-16 fighter jets and intelligent Rocket Launcher Systems. The 'patch antenna guarantees not only razor-sharp precision but is also an essential aid for the extreme sensitivity of the DSI.
Conventional radar detectors use a active super heterodyne antenna, they have lots of disadvantages such as short range detection, false alerts and they are detectable by radar detector detectors.
The Stinger DSI can issue a warning at twice the distance of radar detectors and is 100% legal even in countries that have a radar detector ban, the Stinger DSI is true 100% passive stealth without any reduction in sensitivity.
The Stinger DSI Computer system incorporates GPS speedtrap location alerts, Fixed cameras, SPECS etc and provides the ultimate trip logging facilities. An ideal tool of the trade for self employed or executives with fleet vehicles. Simply and easily log your mileage traveled as either "personal travel" or "business related travel" this greatly simplifies tax and expenses for work related travel. The Stinger DSI Computer can be software upgraded at no extra cost.
Some other features are:-
Safety signals. (Not used and most likely never used in the UK). The Spectrum Analyser enables real-time, remote reception and decoding of so-called Safety Signals. The 'Safety Signals' function warns the driver of potentially dangerous traffic situations. Road workers, schools, police and ambulance services emit Safety Signals, which are immediately transferred into a warning signal for cars equipped with DSI
Police Check: There has been a recent upsurge in news items reporting on the inaccuracy of police speed checks. Police radars often fail to operate within the statutory frequency bands or are set at an incorrect angle. In addition, car registration plates are not always read properly due to illegibility or sloppy note-taking. DSI's Police Check enables the motorist to check the validity and accuracy of police speed checks, arming the user with sufficient proof to avoid being fined.
SpotListing, activating alarms in fixed places. Simply press the 'SpotList' button to mark all locations where you would like to be warned, such as new speed traps. Simple and highly effective. The SpotListing function provides motorists with a warning signal for non-radar and laser speed traps (poles with induction loops, route controls), i.e. speed traps that cannot be identified by the Spectrum Analyzer. SpotListing is a free application, saving DSI users from taking out expensive and complicated subscriptions.
FalseListing, making nuisance alarms a thing of the past. For example you drive past the same petrol station every day. The automatic doors of that petrol station cause the radar detector to produce a false alarm. All you need to do is press the 'FalseList' button when passing the petrol station. From then on, you will no longer be bothered by false alarms when driving past that location.
SpeedSense: No alarms below a certain speed. The Stinger DSI allows you to enter two speed values below which no alarm will sound, one for motorways and one for non-motorway driving.
CurrentSpeed: GPS speed at alarm. Many motorists automatically look at their display when a warning is sound. During each warning, the CurrentSpeed function displays the real-time speed on your DSI. The latest GPS technology ensures this value is even more accurate than the value indicated by your car.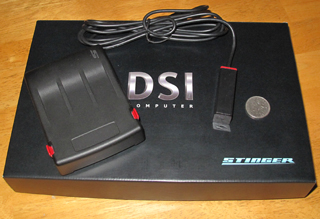 Laser kit. We are showing one square laser head next to a
10 pence coin and the laser interface
Laser Jamming is a new addition to the Stinger DSI system. This is an optional accessory. They offer small heads either square or round. The round ones look just like parking sensors and fit the same way. The jammers offer nothing useful or any excuse for them to be there, unlike some other jamming systems that claim to be parking sensors. (We have not tested the jamming side yet, but will do at a later date). They are very well made and the system, when working, will alert you that a laser gun is being used against you whilst jamming the laser gun at the same time. The Stinger DSI display will tell you the make of gun in use and record the event on your computer centre for the police check feature.
I am told the police officer will get no jam code displayed on his laser gun. Its expected you will need three jammer heads for a standard large car. Jammer heads can be used front and back.
Stinger also offer side jamming, as yet its not needed in the UK it wont be long though. Autovelox have been getting approval for a new speedtrap across Europe. Autovelox is widely used in Europe this system uses two laser beams across the road to detect vehicle speed and then photograph the offending vehicle.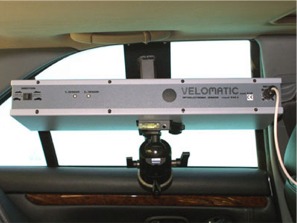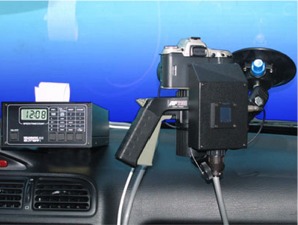 Autovelox can be fitted inside a parked car looking across the road.
The camera on the front screen takes the picture.
The Stinger DSI has lots of features. I have just covered the ones of interest. It is fully software up-gradable for free and future proof. I decided to stop here as I was going to run out of space.
The system is more designed around an installer fitting it for you, but it is not beyond a normal person with good auto DIY skills fitting this system, you may need to buy some extra parts such as a fitting bracket (its a mobile phone fit so brackets are easy to get) for the display and one or two fixings for the other parts.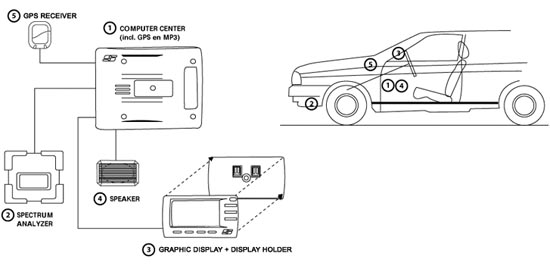 In the huge box is....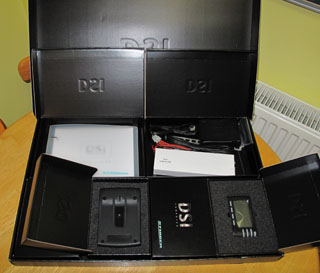 A big box with with 6 little boxes inside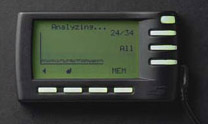 Display
DSI display, this is fitted inside the vehicle and this gives you all the information you need and allows you to change settings.
Display holder, for the vehicle and Display holder (docking cradle) for PC linking (Software updates, GPS Speed camera positions and mileage downloads etc.)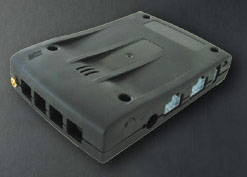 Computer Center
DSI Computer Center, This is the connection point for the, poser, speaker, GPS, Spectrum analyser, and other accessories.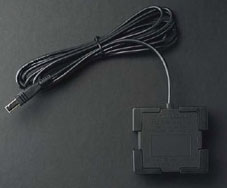 Spectrum Analyser

Spectrum Analyser, for receiving the signals from the speed traps. K and Ka Band coverage.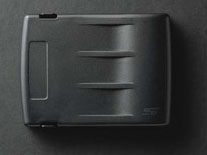 Extension Box
Extension box, this is what is says and is often fitted in the engine bay.
Speaker, this is to hear all the warnings.
GPS Antenna, for the GPS part of the system.
Power lead and IO lead, and USB extension lead, for powering the system and linking the DSI Computer center to the extension box
Metal bracket and a few screws and Instructions.
Fitting would take several hours and I would suggest you use a fitter on most modern cars due to the sophisticated nature of the electronics in cars these days.
In use.
If you have fitted it yourself the first thing you need to do is update the software and add the GPS locations. This is quite easy and software is on the Stinger website. Once done your off.
The Stinger DSI is easy to use and apart from setting the back light and volume I would leave everything else alone. There is a factory reset if you need it. Volume is great as it uses a separate speaker, you can even wire it to you sound system if you wanted. The display is easy to read and gives you clear information on the warning type or status. There is a nice blue glow off the soft touch buttons and display screen, you can set the level for the display and the buttons separately.
Warnings come in the form of sounds and speech.
I am not going into great detail about the mileage management features, but putting it simply you can tell it if you are on business miles or private and it will then log the details and you can then download the information at a later date to do your expense sheet for example.
It will also allow you to download any event that may have happened at a speedtrap, details such as your speed, time and date and what the event was, radar, laser including frequency or laser gun type etc etc. This is all done with the software you have all ready downloaded to update the firmware, called Stinger Desktop, and add GPS locations. It is all easy to use and quick to do.
When the Stinger DSI powers up it will self calibrate and then start watch out for you. You have several screen options, one that shows you a Spectrum Analyser screen showing a scan of the frequency, a GPS screen, Pilot screen, which is a mixture of the Spectrum Analyser and GPS and the signal strength screen along with settings. You can have a preferred screen it will default to.
Warnings
The GPS warnings are easy to understand and work well, they cover anything that is not detectable, such as Truvelo, SPECS SpeedCurb etc. SPECS warnings work well, you get your speed, average speed and distance covered as the main parts with sounds and smiley faces to warn you if your average speed is to high. (The GPS option I have tested in Holland where there is a live database, the UK database will be provided in a few weeks for free and will come from Novus Systems Limited)
Adding new locations is a simple press of a button. You can download new positions off Stingers web site as well in the form of a new database, this is free for life (No subscription)
The radar detection is simply stunning, range is at least twice of the Valentine 1. I was getting 15 second warnings on a Gatso round a corner and 30+ seconds on a gatso on a straight bit of road. You also have the advantage of storing sites that give you false warnings such as automatic shop doors and garages etc. This is done by a simple press of a button and next time you pass that area you get no false radar alert.
Video of Stinger DSI against Gatso.
From behind and towards the Gatso and using FalseList system
The GPS and radar work together, so you get a GPS warning of a gatso location and the Spectrum Analyser tells you if its live.
Overall the system works as you would expect it to, it is a real dream and the best I have ever seen.
One real cool feature is the panic delete, two presses of two buttons and all the software for the radar and laser jamming is removed, the only way to get it back is to re-program the display. (easy to do on the docking cradle) This is a feature used for countries that radar/laser detection or laser jamming is illegal. Once you use this feature the only thing left working is the mileage management feature and police check and then police can not prove you had a detection system. This is how they keep it 100% legal. For example in Holland, detection is illegal, the Stinger DSI has been checked by the Dutch authorities and they were happy that this unit does not contravene any laws.
Laser tests.
We have not tested the laser to date
So what conclusion have we come to?
Well this is a £1600 system, but you get Radar detection with anti false alert features and data recording of the event. GPS for all detectable and undetectable speed traps with free database updates for life and Laser jamming if you add the extra option (£400-900).
If you were to buy the best systems of GPS and Radar detection (Close to £1000) you still would not get close to the performance of this system, neither would you get such a great integrated system that you can do a stealth install on. The display is easy to hide in an ashtray or behind a sun visor.
This is the best of the best and is the only option if money is no object.
Can we recommend it, yes
This is the best integrated system I have seen and tested.
£1800 - £3000 is a lot of money but then you are buying military technology that you can
clearly count on and what price do you pay to protect your licence.
What do we like.

What don't we like.

Its size and the fact it is easy to stealth install
System integration
Loud and clear alert sounds
Clear and useful display
FalseList Function
Police Check Function
User functions
Build quality
Instructions
Incredible performance
Free software updates
Free GPS database updates

False alarm problem on Active Cruse Control and Collision avoidance systems.
We would have liked to see a case for the display.
Different display colours.
Still to see the laser jammers work.