Robic Portable Speed Calculator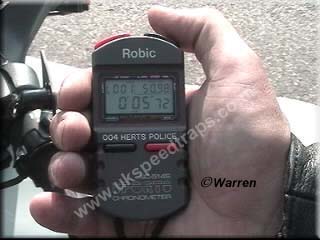 Above: Police issue Robic Stopwatch
Speed shown in top right corner. (50.98 mph)
Specs:
Speed timer displays speed in MPH/KPH
Memory for Speed, Time & Date
Distance entry precise to 1/1000th mi/km
Average times/speed, on demand
1/100th second precision to 24 hours
No calibration required
This system is deadly, even a Policeman on foot can get you for speeding now.
This is a £20 stopwatch, available in two models (one above is the MK1), the MK 1 shows the speed in the top right corner, the MK2 shows the speed in the main screen area (where the time is shown in the MK1)
The officer that allowed me to take the picture told me that, they started to use the units on estates on foot patrol, but the motorbike riders also like to use them as well, they can be used over a shorter distance than VASCAR, and they do not need to be calibrated as VASCAR does. (VASCAR needs calibrating every 7 days.
Working in exactly the same way as VASCAR, taking a reading of time over distance and then computing the speed.
Hertfordshire Police use them on the A roads, and most of the A roads have the special markings set-up for the Robic system.