ProViDa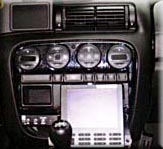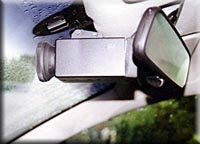 Above Left: Centre Console Video Unit. Above Right: Forward Facing Video Camera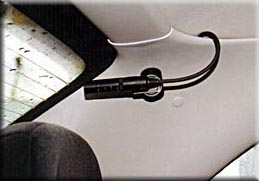 Above: Rear View video Camera
The system is used to educate, advise and, if necessary, prosecute the errant driver, concentrating on cases of dangerous and inconsiderate driving. While speeding motorists are not exempt from prosecution, they are not its intended targets.
The ability to capture the actions of an offending driver on video tape reduces argument. The facility to replay the incident and point out the transgression minimises confrontation and reduces the number of contested cases at court. The display of a video recording of their actions has a powerful and long-lasting influence on the majority of drivers.
Courts that use ProViDa evidence do not have to rely on the recollection of the incident by either the police officer or defendant but can have the actual incident replayed, helping the magistrate to reach a just decision.
HOW IT WORKS
The ProViDa In Car Video System is fitted to marked and unmarked traffic patrol cars and motorcycles with the aim of improving driver behaviour and road safety. It is used to detect traffic offences and to educate, advise and, if necessary, prosecute offenders.
The system comprises:
1. A colour video camera with pan and zoom control in the front and a rear facing camera in the back.
2. A video data generator which records date and time.
3. A police pilot speed detection device and speed indicator.
4. A mobile VHS video cassette recorder with a remote control unit.
5. Two liquid crystal display colour monitors, one each for front and rear seat occupants.
When the patrolling police officer sees an offence or an example of bad driving, he records the incident on tape. He then invites the motorist to come to the police car where the incident is replayed. The motorist watches the recording of his driving in the back of the police vehicle.
Depending on the circumstances of the offence, the motorist can then be advised regarding their driving, cautioned or prosecuted, when the video recording can be used in court if necessary.
Thanks to Matthias Eifrig for the ProViDa Images.