Road Angel Navigator 6000 GPS Navigation and Warning System.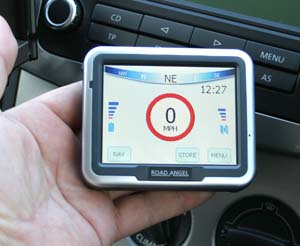 The RoadAngel Navigator 6000 is the first of a new range of navigation products from the RoadAngel Group. The Navigator 6000 is the budget system at £249.99 and considering it's a budget product, it does not come with budget features.
Full postcode search, UK Street level mapping, extensive POI (points of interest) database, some good programmable features and the full screen Road Angel software for the times you don't need navigation.
In the Box is everything you need to get going. The unit, cradle, windscreen mount, power/charger cable for the car, mains charger, update cable and manual. There are options for a leather case and vent mount as well. You get 6 months free updating for the database and then you get the option to subscribe for £3.99 a month after that. This will allow you to keep the camera data and software up to date. If you don't subscribe you don't lose anything you just can't update the database with new camera locations. There is a store and delete button to do it yourself if needed.
Features


■ Fixed camera warnings
■ Camera-advisory speed limits
■ Accident blackspots
■ Primary schools
■ Congestion charging
■ USB updates
■ Speech alerts
■ Store your own personal danger areas
■ Latest generation Sirf3 GPS receiver
■ 8 hours battery life
■ 12/24v Input


■ Full colour 3D or 2D mapping to street level
■ Clear sound voice instructions
■ Quick location search
■ Full postcode search
■ Navigate in Britain door to door (street level)
■ Interchangeable and extendable mapping provided on a simple to use SD card
■ Day and night mode
■ Voice prompts
■ Automatic re-routing
■ Save your favourite routes
■ Latest generation Sirf3 GPS receiver
■ UK street level mapping with Full Postcode Search facility
The new unit is a fantastic improvement over the old navigation unit when it comes to looks and performance it is much smaller and better built. The new screen they use is very much better as well. The units case is very slim and feels much better built. The antenna no longer sticks out as the unit as it now uses Surf-3 with an inbuilt antenna, Surf-3 is a much improved GPS receiver, it is so good I can get a signal in the house. We also tested behind a thermal windscreen and also had no loss in signal. There is a remote antenna connector if needed.
Battery life is up to 8 hours, we are getting around 6 hours with the screen illumination set on max, drop the screen brightness down three stops and we get almost 10 hours. The screen on max is very bright, crisp and clear. Its easy to see in a car.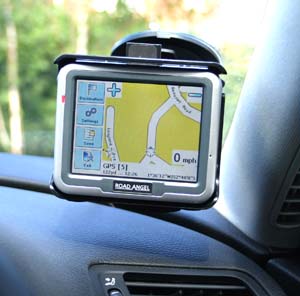 The small speaker built in to the unit is okay and has no problem in projecting the sound to the driver in a clear manor. There is now also a stylus built into the unit on the back for those that have big fingers, however most screen options can be worked with your finger tip as the screen buttons are big enough. Its a simple unit to use.
It can also do Mp3 music and playback images, but they are only simple programs so don't expect much.
In use.
The unit has two modes. Full screen Road Angel and Road Angel with Navigation.

Full screen Road Angel is very simple, it just acts as a speedometer and gives you large easy to see warnings for the hazards out there. A big red screen for a camera if you are over the speed limit and a big green screen if you are below the speed limit when approaching a camera. Speech and beeps announce the hazard.

In navigation the warning screens for the hazards are placed round the edge of the screen so as not to cover up the navigation information Again red or Green depending on your speed. You still get Speech and beeps announcing the hazards. Fixed Cameras, Mobile Cameras, Average Speed, Blackspots, Congestion and Schools are all covered.
Navigation is simple, you can enter the full postcode and go. You can also enter the full address, (Town, street, and number) but this takes a little longer or enter a POI. There is the facility to save bookmarks, your home, work or navigate to a recent destination. You get speech warnings well in advance of the turning, 2 miles in some cases. The screen shows your position on the map or you can just opt for a large arrow and countdown screen, less distracting they say. You can set preferences such as no motorways, toll roads etc. Type of car and type of route.
We found the directions easy to understand but strange at times. The unit has a habit of taking you in odd directions. We arrived at all the destinations we put in with no problem.
The navigation on the old unit was better, They used to use Navtec with Co-pilot, they now use Teleatlas and Gate 5 and in my opinion this combination is not as good.
Can we recommend it, no .
There are better options.