Cats Eye Cameras


Its True, and this is what they look like.

It sounds like the speeder's nightmare. A speed camera accurate up to 150mph which can be concealed in a road stud as small as a cat's eye.
It's being trailed in Scotland
The camera is just 130mm in diameter, and can protrude from the surface by just 5mm; and it is linked to a computer that can read and decode number plates written in both italic and cursive scripts.
The idea is that you would use it in the approach to somewhere with a lower speed limit. The camera will look at each oncoming vehicle and measure its speed. Then you'll have illuminated road studs that will light up on the approach to a pedestrian crossing, say, and a sign that could light up with the number plate telling people to slow down.
The camera is a logical follow-on from Astucia's self-lighting road studs, now being trailed in Hampshire. These are intended to give motorists advance warning about traffic lights they might be unable to see due to fog or high-sided vehicles ahead. When the lights ahead were green, the studs would remain dark. But as the lights turned amber, so do the studs, flashing twice a second until the lights turn red. The studs marking the lanes would also flash.
Used in the US, the studs are claimed to have reduced accidents by 80 per cent. The tiny speed cameras would be the next step on the road to safety, and the Scottish Office is testing them in Motherwell.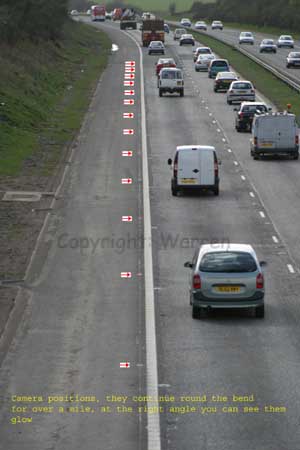 The cats eyes are marked, look closely enough and you can see the IR Glow from some. Even though the arrows
I have drawn don't go round the bend the cats eyes do.