Ford Escort Cosworth
The Ford Escort RS Cosworth., was currently in use in Humberside, is a development vehicle based upon the standard model available to the public. Members of the Vehicle Crime Unit teamed up with Ford Motor Sport and Ford Special Vehicle Engineering, to develop one of the most sophisticated Police cars ever to be constructed.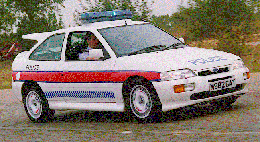 The end product of the research and development is a250 brake horse power, 16 valve, turbo charged 'Super Car', which is fitted with permanent four-wheel drive. The acceleration rate of this vehicle is shatteringly quick 0 to 60 miles per hour (mph) in 5 seconds, with a top speed of 150+ mph.
This level of performance, coupled with the safety of four-wheel drive and brakes which are almost as incredible as the engine, make the Cosworth one of the safest vehicles available for this type of application. Other special components fitted to the vehicle include competition suspension, competition wheels, under-body protection and specially developed tyres.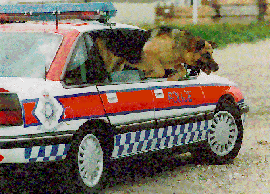 The vehicles' main purpose is to act as an evidence gathering car, to present a higher standard of evidence to the courts. To this end, it is fitted with the most advanced speed detection and video recording equipment available. Additionally, it is equipped with no less than three separate communications systems.
The Cosworth's operations are complemented by specially converted Vauxhall Senators, which carry Police Dogs. The skills of the dogs and handlers are employed to assist with searches and the arrest of offenders.
Subaru Impreza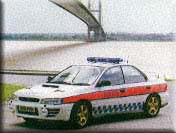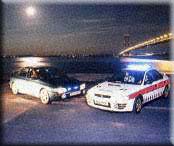 Humberside now use the Subaru Impreza, modified by Prodrive in Banbury, Oxon, 244 bhp is what they get with equipment fitted inside similar to the Cosworth, and modifications such as uprated engine, exhaust, seats, brakes and sump guard, for 70mph rides over speed humps. Two cars are in use one fully marked up the other unmarked, still supported by the Senator with its dog in the back.
The change took place because of cost of the Impreza, being a lower cost option to the Cosworth. (And in my opinion a better car).
Lotus Esprit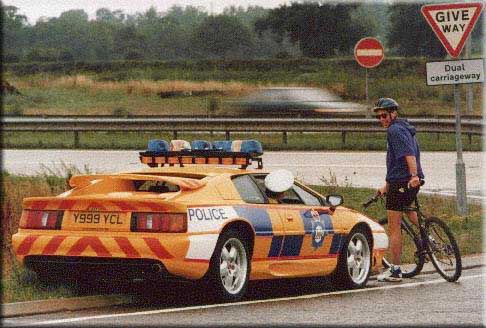 Picture courtesy of Chris Ward.
Yes they do have one, this is a Norfolk PR car, The number plate is a fake. 
As yet I've still to get some more info, but its a great picture.
Steve,
Since being stopped recently by the locals armed with a laser gun, I've spent a lot of time mooching round sites like yours. Found the pic of the Lotus Esprit which brought back happy memories.
Quite right - it was a PR stunt in conjunction with the local police in Norfolk. The car was liveried up as required by 3M and we had a removable sunroof which carried the (working) lights so we could swap it in and out easily. The number plate was as far as I remember genuine - our tongue-in-cheek gesture for the planned use of the car. At other times it was a press car. Now presumably either gone to the happy scrapper or at least on to its nth owner.
How do I know? I was running the PR department at Lotus then and it was my idea to do the car. The 'policeman' was one of my technicians and the biker was one of the vehicle development engineers game for a laugh. Great fun! 
Cheers
PP